The Art of Domination by Florida Dominatrix Mistress Pomf

Dream for a minute… My divine features. A voice like velvet that soothes, titillates, and claws into you. A mind trained in the art of domination. I will leave you floating in the ecstasy of submission…
I'm an artist through and through. Domination is a craft.
What do I love most of all about being a dominatrix? I'm your Leader, Guide, and Creator. I have full trust in the power exchange.
My style is unpredictable. It ranges from brilliant verbals to the eerie power of silence. I'm a sadist with the dirtiest laugh and most devilish smile.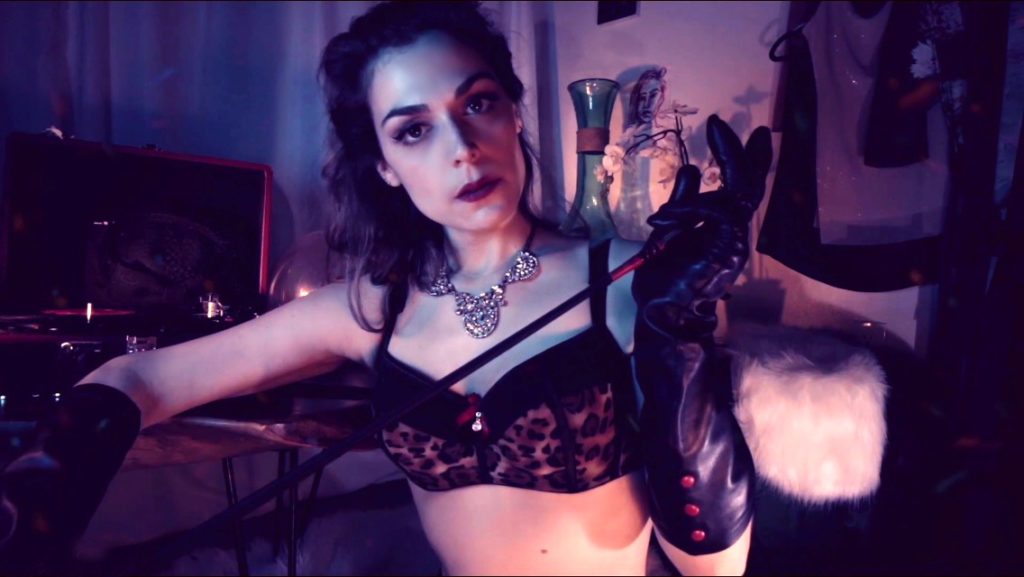 Dominatrix Mistress Pomf holds her riding crop as she looks sternly at you in her leather gloves in her Femdom film Glove Lust.
BDSM Specialist in South Florida
I have an expertise in role play and a repertoire of Dominant personas skilled at composing a scene naturally in the moment. Be My student or fill the shoes of another role beneath me! Some roles I enjoy are librarian, governess, teacher, boss/CEO, Mommy, mean school girl, shop girl, nurse, connoisseur, military officer, prison ward, detective, heiress, femme fatale, therapist, nun, vampire, alchemist, priestess, various Goddesses and archetypes. The possibilities of scenes are endless.
I have a penchant for the art of taboo, the "weird," the curious, the wonderful! This shows through in my exploratory nature. Full toilet training is also speciality of mine for many years. I am internationally sought out for my hardsports, brown showers, or scat sessions.
One of my earliest desires was for wet and messy play, also know as sploshing fetish. Many of my submissives bring me cakes and get the treat of watching me sit on them while adorned in my vintage, pin up style. Read My blog on cake sitting or sploshing to learn more.
Truly, I have a wide range of kinks and fetishes. Some of other favorites of mine not mentioned yet include slave training with high protocol, CBT, bondage and discipline, corporal punishment (especially spanking and caning), chastity training, tie and tease, tease and denial, humiliation, foot worship, trampling, breathplay, and facesitting/smothering as a form of breathplay. Head over to My Kinks and Fetishes page for more details.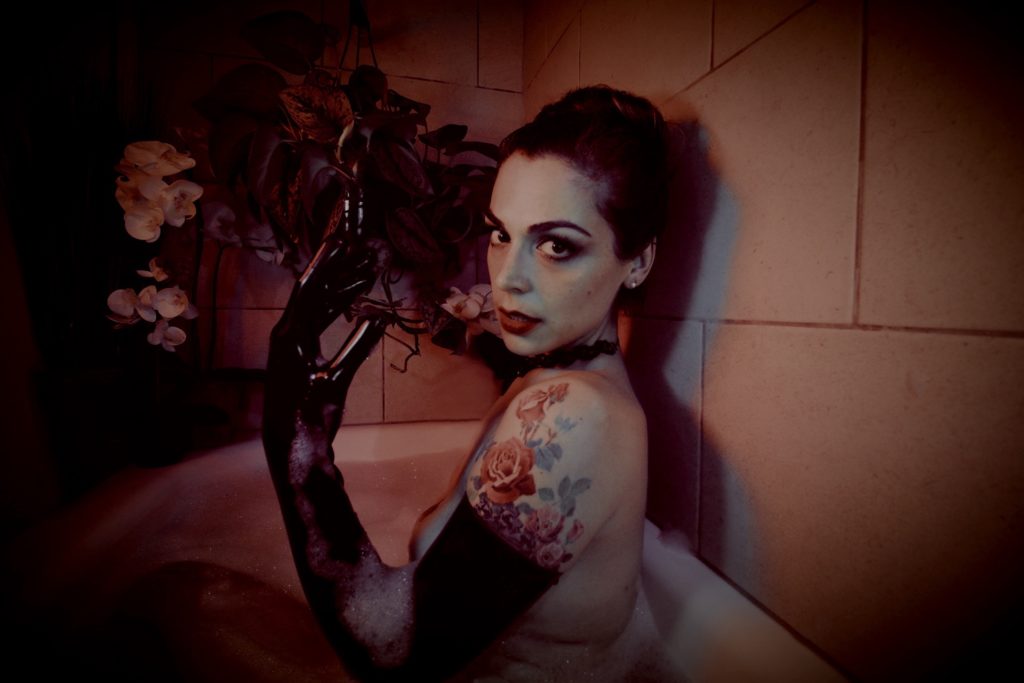 Mistress Pomf wears shiny black latex opera gloves and roleplays as femme fatale in a bubble bath.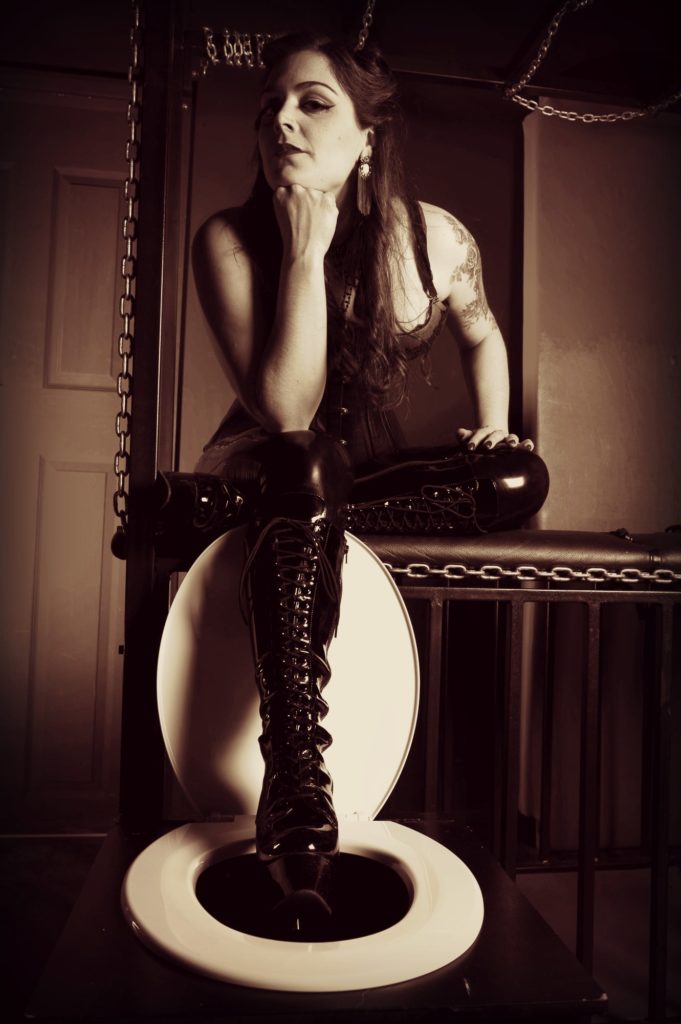 Dominatrix Mistress Pomf looks out at you with calm confidence from above her toilet box in England's Manchester Chambers, 2018.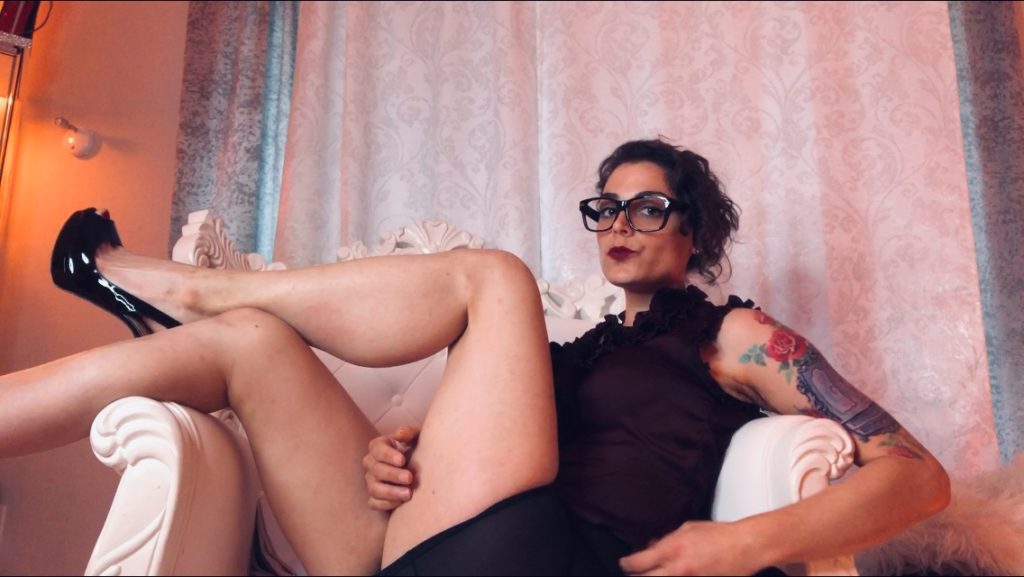 Mistress Pomf roleplays as boss in Mistress Mercy's Florida Dominatrix dungeon.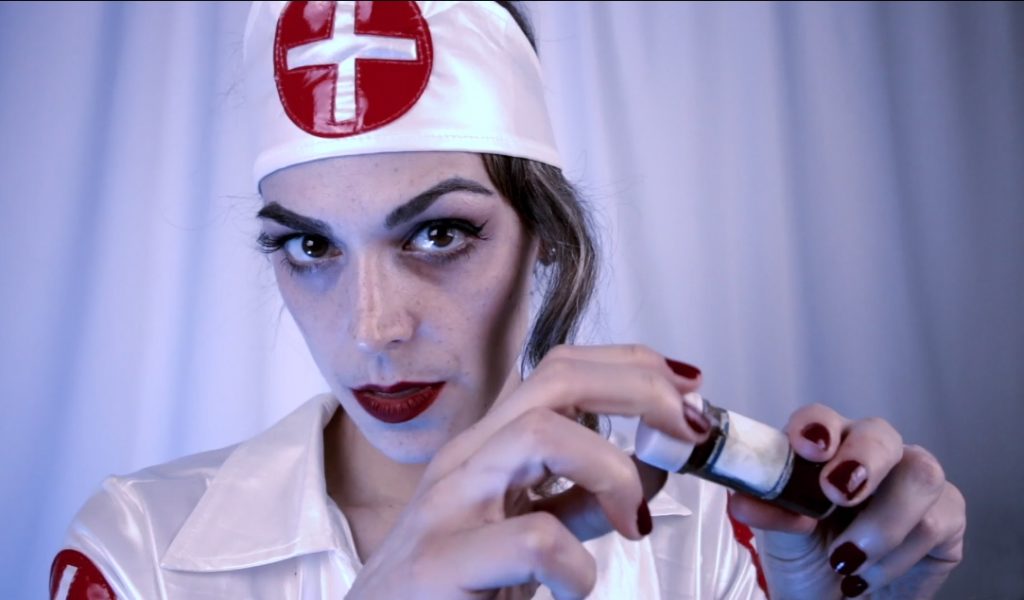 Mistress Pomf roleplays as Nurse Pomf in "A Piece of Me" an episode made for toilet slaves in her Femdom choose your own adventure film series "A Cure for the Male Ego."
Ushering Forth My Craft
I am a nomadic Goddess. Just as other nomads have done throughout history, I routinely visit many of the same areas as a traveling Domme. Being a south Florida Femdom is one individual entity I delight in living out my days. My mind, body, and spirit combine to usher forth my craft.
I've spent over a decade now cultivating the ethics and values that nourish my lifestyle and professional practice. Everyday is an active endeavor to keep growing in my Divine Feminine and Divine Masculine as well as a Buddhist. These are some pursuits which help me live a sustainable life.
    Domme Mommy Pomf sprinkles baby powder onto you from above in an ABDL scene.
My Location
Miami is my original hometown and I adore my time here as professional Mistress to some and friend or family to others. You can count on serving me in Florida several times throughout the year. Winter visits are always on my schedule as I enjoy a liberating escape from its cold. I've sure become quite the "snow bird!"
When you serve me here I will conduct O/our sessions in a private dungeon in Pompano Beach, Florida. My play-space is clean, organized, and fully-equipped. Outcalls to select places in Miami and West Palm Beach are often granted plus a surcharge to cover my travel expenses. In addition, I tour the Tampa/Orlando area during some of my Florida visits.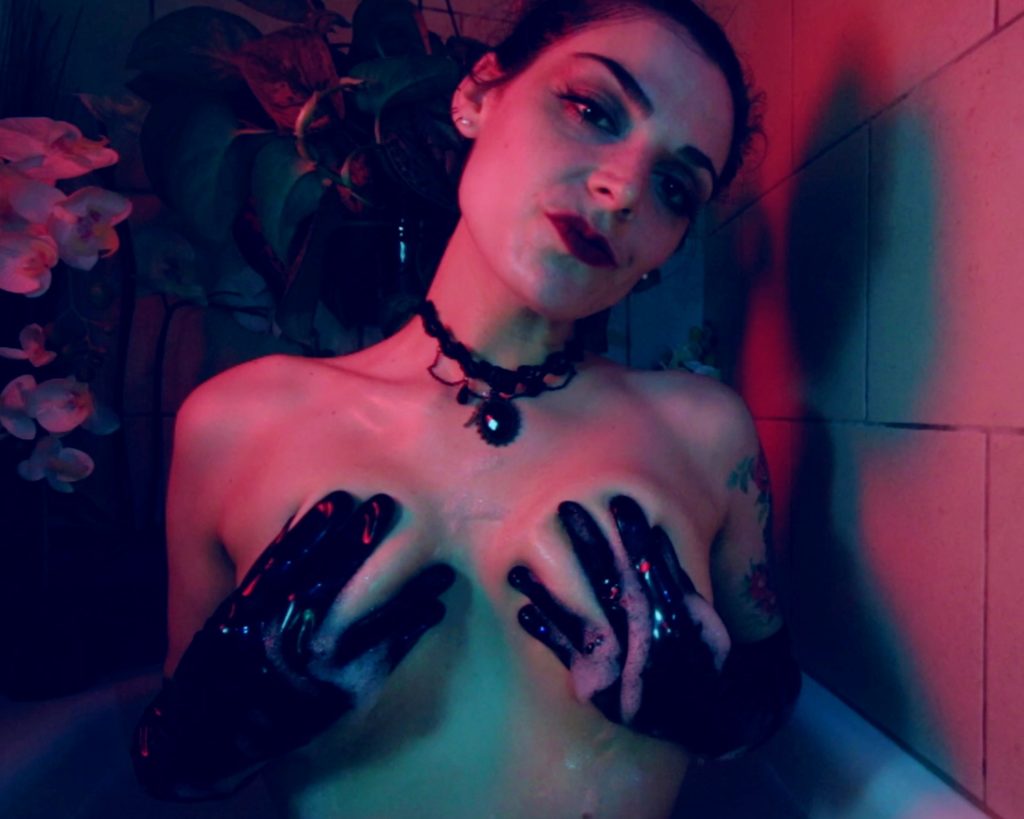 Mistress Pomf the Florida Dominatrix plays the femme fatale as she entices you from her bubble bath surrounded by tropical plants.
My BDSM Roots as a Professional Dominatrix
My BDSM roots are as a lifestyle Domme and kinkster. Prior to entering the profession, I lived in Asia where I practiced kink with people from a variety of races, ethnicities, and cultures. Communication and negotiation in BDSM scenes can certainly happen without sharing one anothers language.
Following my time in Asia, I moved to the UK. England certainly romanced me, and it was there that I began My career as a pro Domme and got my wish come true where Mistress Lola Ruin of Manchester agreed to mentor me.
Incredible lessons and memories come from my time in the UK. It's a blessing to be both trained by and to train others from a different culture or race. I bring this training to you here in south Florida.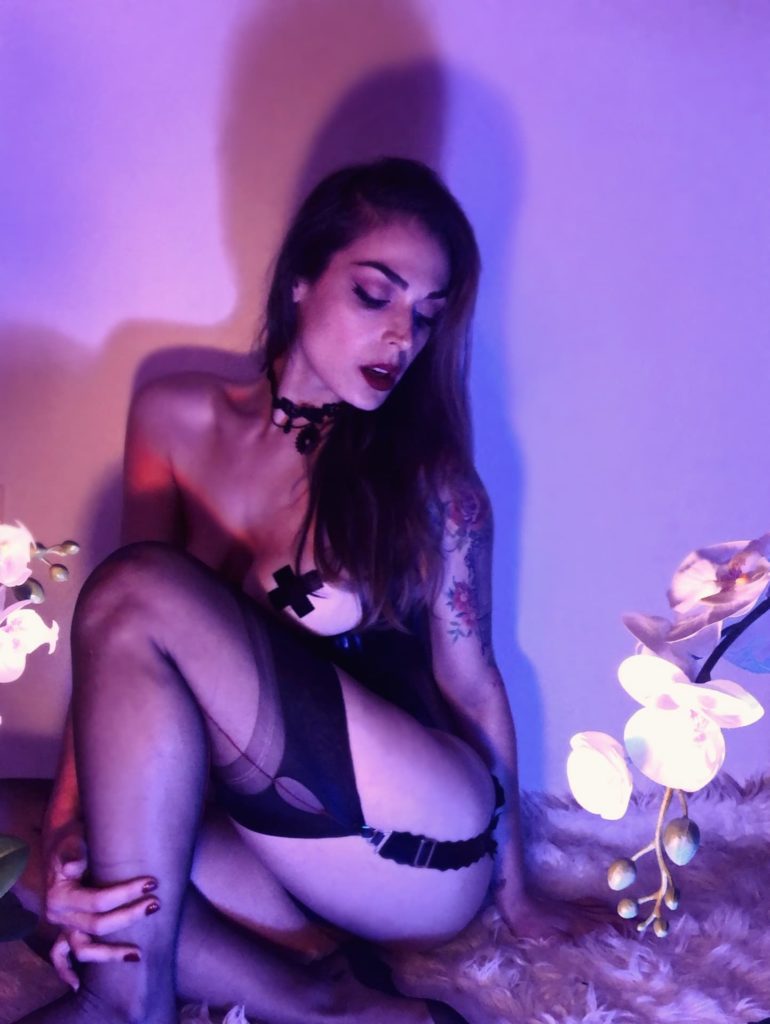 Nomadic Goddess, Mistress Pomf wears fully fashioned stockings while surrounded by orchids.
 Apply to Serve Florida Dominatrix Mistress Pomf
All levels of experience and curiosity are welcome to apply to serve Me. Respect and good communication are paramount to receiving a session. I have experience I only indulge in activities that excite Me. Applicants who want to serve Me must have interests that are compatible with Mine.
Mistress Pomf roleplays as the Heiress laying on fur and wearing her magical leather gloves.
 Let go into the power of your submission…
Submissives and slaves aren't the only ones I grant sessions to. I love granting sessions to respectful fetishists whose fetishes I enjoy. Fetishists however, must let go of their ego and submit to the power exchange just as submissives do.
Are you willing to let go into the power of your submission?
Letting go under My control will give life to genuine experiences. Both submissives and fetishists dream of this.
Read My Guestbook and Blog to see what some have to say. My blog BDSM Power Exchange: What Makes Great Power Exchanges? will help you see if O/our perspectives on BDSM and fetish are compatible.
Mistress Pomf holds her cane and warns you to behave in the UK's Manchester Chamber's schoolroom.
Creativity is the Key to BDSM Domination
I'm not a Femdom cliche relying on My pinky finger to humiliate you. You want to session with a natural and creative Domina! I see BDSM as a wonderful journey that I will take you on. With years of experience, I welcome you to float in the ecstasy of your submission.
Mistress Pomf's Unique BDSM Signature
I go deep into the minds of My submissives, luring them in, and allowing them to enter into My dominion. Submission is humbling, and My slaves learn to be proud of it.
Any session I create will always have My unique signature on it. If I grant you a session, I am not just sharing My time with you. I am creating an unparalleled experience to cherish for a lifetime.
I was born to be a dominatrix. To breathe My Creativity into each play. Surrender to Me, enter My realm, and be freed from the boredom of your tragic world...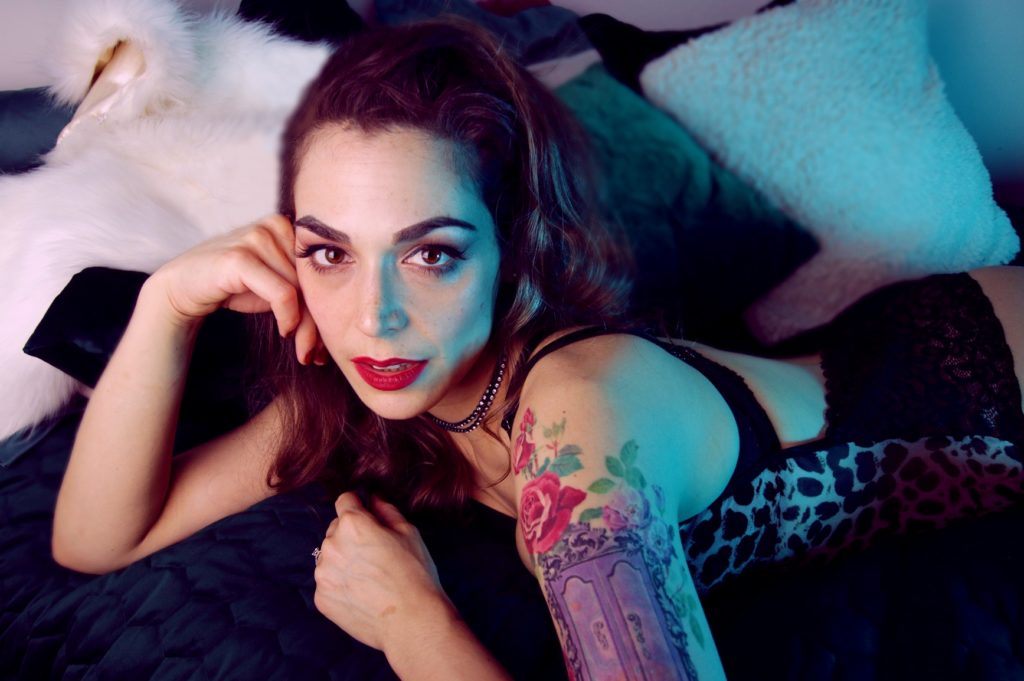 Mistress Pomf focuses on you with her exquisite hazel eyes and hypnotic Femdom gaze.