Klara Mason
Professional Dominatrix, New York City 
---
A New York City native with an intense curiosity, energy and sex-positive spirit that is contagious, Klara Mason will find your personal breaking point, teetering on the balanced summation of sensory stimulation and discipline. Double Domme sessions available in NYC, contact for details!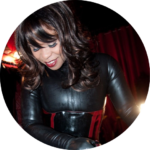 Ariana Chevalier 
Professional Dominatrix, New York City 
---
With over 2 decades of skill and experience, Ariana Chevalier is sought after by slaves far and wide begging to be put in the most challenging of bondage predicaments. She is a Power Fetishist, with a serious love for latex and corporal punishment. Her NYC Rubber Studio studio is a second home to Professional Mistresses around the world.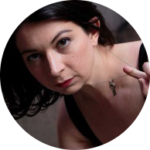 Madam Director 
Professional Dominatrix, New York City 
---
Madam Director is not just a New York based Dominatrix. She is most definitely an artist and quite possibly a shaman. Her work utilizes BDSM as a vehicle for spiritual shadow work; which often provides Her clients with a gratifying, profound, sense of catharsis. Each session is a highly personalized ritual in which she holds space for unabashed and deeply primal (meta)physical exploration. Double Domme sessions available in NYC, contact for details!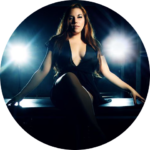 Elena De Luca
Professional Dominatrix, Producer, & Educator, New York City 
---
With a decade of experience on film and in the lifestyle, Elena De Luca brings a wide variety of interests when exploring the erotic art of BDSM in Her scenes. Her style is fluid, dependent on the chemistry between the dommes/subs and where my interests meet with those of my pupils'. She travels often, going wherever She feels will best serve Her experiences.
Carolyn Weltman
Artist, New York City 
---
Carolyn Weltman declares herself to be an expressive figurative artist whose work includes female, male, transgender and transitioning subjects. Her work is full of wonderful surprises.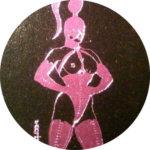 Purple Passion
Premier BDSM Store, New York City 
---
New York City's premier BDSM, fetish clothing and adult toy store for men and women. Purple Passion carries a wide selection of latex and leather clothing, corsets, boots/shoes, restraints, bondage equipment, rope, vibrators, sex toys, and much more. BDSM workshops are hosted regularly in their classroom.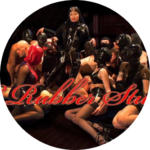 NYC Rubber Studio
Dungeon, New York City 
---
Fully female owned and operated by Head-Mistress Ariana Chevalier since 2003, the NYC Rubber Studio located in Midtown Manhattan, is fully equipped with four exquisite play rooms. This premier space has cages, restraints, impact toys galore. Each room has unique suspension rigs designed by Ariana and executed by Her loyal slave. Few play spaces in America come close to this!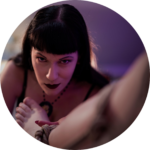 Natalya Sadici
Professional Dominatrix, South Florida 
---
Vixen Sadist Natalya Sadici's penchant for perversion is clear by the gleam in Her eyes and diabolical grin that comes across Her face. Hailing from Chicago, with a career spanning over 14 years, Natalya Sadici has many specialities including bondage, electrical play, corporal punishment, and chastity training. Her extensive knowledge and skills of bondage will leave you helpless in an endless variety of ways. With a private and fully-equipped dungeon in South Florida, She provides a a sanctuary for indulging in kink. Double Domme sessions available in South Florida, contact for details! 
Mistress Mercy 
Professional Dominatrix, South Florida 
---
Leader of the Goddess Girls, Mistress Mercy is the dreamy girl-next-door with a dark side. She is a true fetish enthusiast with more than a decade of dedication to traditional BDSM. With an affinity for ABDL and other forms of age play, Mistress Mercy enjoys being a sweet and sensual Mommy to good little boys, as well as a strict disciplinarian to submissives in need of control. Do not underestimate this adorable little girl in pigtails, or you'll see what a cruel and creative Mistress She can be. Double Domme sessions available in Pompano, Florida, contact for details!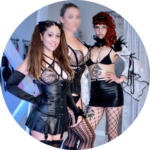 The Goddess Girls  
Professional Dominatrices Group, South Florida 
---
Using their feminine power and perverted intuition, The Goddess Girls will turn any wet dream into reality. As real best friends, they offer an unmatched level of intimacy in Double Domme sessions. I cherish the connection we formed originally as lifestyle Mistresses and am thrilled to be a part of it when visiting South Florida. The Goddess Girls' private dungeon, The White Room, features a fully equipped BDSM playground, a sissy boudoir, and the only ABDL Nursery in South Florida. Double or Multiple Domme sessions available in Pompano, Florida, contact for details!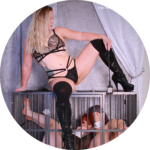 Mistress Minx 
Professional Dominatrix, South Florida 
---
Bestowed with an Amazonian presence that will leave you awestuck, Mistress Minx is sweet and seductive with a taste for slaves and sissies looking to earn their collars. Are you ready to prove yourself worthy of serving a Goddess? Come willing to please her every desire or leave reduced to nothing. Double Domme sessions available in Pompano, Florida, contact for details!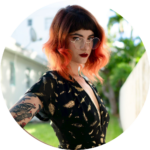 Princess Dove
Professional Dominatrix, South Florida 
---
Exuding grace and control, Princess Dove is a royal essence to be worshiped from her shining hair down to her perfect toes. Sparkling and fun in one moment, strict and wrathful in the next. Princess Dove is perfectly suited for submissives of any training, from inexperienced newbies to seasoned slaves. Double Domme sessions available in Pompano, Florida, contact for details!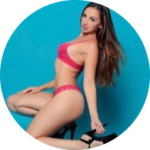 Ashlynn Taylor
Model & Producer, Florida 
---
With her burning desire for the adventures of kink and fetish, Ashlynn Taylor is the girl next door cock-tease who will turn you inside out. Your unique fantasies become reality in her personalized custom videos. Check out our clip stores for double domination and fetish content sure to drive you wild!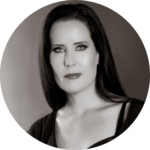 Simone Justice
BDSM Educator, Former Dominatrix, Fort Worth
---
Internationally renowned BDSM educator and former dominatrix, Simone Justice is among the first 15 people to be inducted in the BDSM Hall of Fame. A 20+ year member of the BDSM community, mentor to many of the world's top dominatrices, producer of kink events, BDSM consultant to TV & film, and writer. Her safe and skillful program DommeCraft, draws on Her experience as both a dominatrix and psychotherapist. Passionate about educating, She helps individuals gain the confidence to manifest amazing BDSM experiences.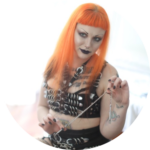 Princess Poison
Professional Dominatrix, Austin
---
Crafting erotic Femdom Experiences for the curious and brave, Princess Poison takes rewarding, measured risks to connect deeply and authentically with those willing to hand over their autonomy. Confident in Her sexual prowess and above average intelligence, Poison will disorient and control Her prey. Chastity, slut training, and ass worship are just of Her specialities! Double Domme sessions available in Austin and NYC, contact for details!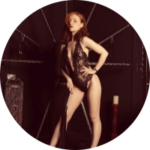 Lola Ruin
Professional Dominatrix, Manchester, UK
---
Lola Ruin will slowly mould you into the best submissive you can be. With Her encouragement, you will finally begin to realise and embrace your true self. Her extensive knowledge of human sexuality and exquisitely honed craft are gifts to all lucky enough to bask in her presence. I am grateful for her continuous mentorship, and close friendship extending "across the pond." Double Domme sessions available in the UK, contact Me for details!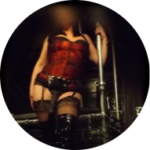 Mistress Torment
Professional Dominatrix, Manchester, UK
---
Specializing in tie & tease, chastity, and cuckolding, Miss Torment will dominate you with even a whisper! She is not the Mistress for faint hearted slaves. Double Domme sessions available in Manchester, UK, contact Me for details!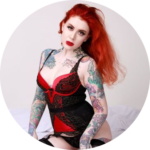 Model, Performer, & Suicide Girl
UK
---
Raphaelite, Roo Morgue was an absolute dream to film with. I'm not sure what was more divine - pushing a trifle into her face or pouring custard all over her beautiful latex-clad body! Follow her social media, buy her titillating clips, and worship her!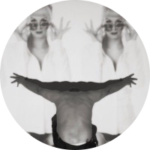 Steve Satin
Photographer, Manchester, UK
---
There is a reason Steve Satin is the go to photographer for kink professionals in the North West of England. Offering studio, location and more recently outdoor photoshoots, Steve will help you create the perfect images to torment your fanbase!
Professional Mistresses 
Mistress Directory, UK
---
A modern interface and comprehensive UK Mistress Directory that lists professional mistresses and dominatrix experts. Follow their social media for regular kinky updates.

Mistress UK
Mistress Directory, UK
---
The best place to find Professional Mistresses, Masters, submissives and playspaces. An up to date directory which offers both free and premium listings to all purveyors of kink!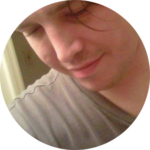 Nicholas Tanek 
Your Kinky Friends, Worldwide
---
Author of the books The Coolest Way To Kill Yourself & Chipped Black Nail Polish & Your Kinky Friends and the Web community: YourKinkyFriends.com, Nichola Tanek's appreciation and support of BDSM and the community is apparent. One of his gifts to the community is his growing collection of engaging interviews with a variety of fascinating kinksters from sex workers, to models, to musicians, and more!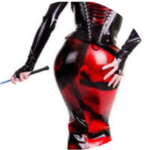 Dickie Virgin
Mistress Directory, Worldwide
---
Ranked, the World's #1 FemDom Directory, Dickie Virgin gives continuous support of Femdoms around the world. Follow their Classifieds, Domme Guide, Blog, & dickie Tube to find the perfect Dominas for you!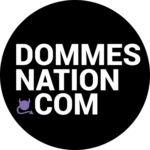 Dommes Nation
Mistress Directory, Worldwide
---
A Femdom Directory promoting the finest Pro Dommes from around the world. Search and submit to the finest Pro Dommes. Follow them online to indulge in their continuous appreciation of Femdom!