Femdom Blackmail Fetish Scenes

Blackmail Fetish is common. I love doing erotic blackmail scenes but I haven't promoted them too much over the years. My reasons for this were varied from the level of complexity I feel these scenes require in order to be believable, to discouraging the amount of time wasters and illogical fantasists who request them. Lucky for you, I am going share an erotic blackmail scene in this blog.
Sincere Requests Only
I only take requests from submissives who have respect and understanding for playing SSC. It is possible for even beginners to have this foundation. If you're a beginner, start educating yourself about BDSM practices. In addition, I recommend also doing personal development if you aren't. Cultivating a healthy and loving foundation with ourselves should be of primary importance. The better this gets, the better our connections outside of ourselves become as a well.
A Recent Blackmail Fetish Role-play Request…
I recently got a role-play session request from a Las Vegas submissive with a blackmail fetish and toilet slavery fetish. It read:
"I enjoy a role play scenario in which you are my secretary, and I am your jerk of a boss. You discover Femdom-related pictures on my work computer and blackmail me into becoming your ass-kissing bitch and full time toilet. Verbal humiliation is most appreciated."
The request was intelligent, polite, and of interest to Me. I happily granted it. Take note of the respectful way this request was written, should you also wish for Me to make a fantasy you have come to life.
Perfection Crafted in a Scene
The scene was exhilarating for both Me and My submissive. Toilet slavery has been a speciality of Mine for years. Adding erotic blackmail to the mix heightens things even more as the excitement in a scene increases from the edge play that CNC (consensual non-consent) offers. Combining these two kinks with role-play, My biggest fetish, was perfection.
Florida Dominatrix Mistress Pomf roleplays as the Secretary in an erotic blackmail fetish scene.

Femdom Secretary Erotic Blackmail Role-Play Scene
The Librarian: "The Secretary is a pink collar worker. And don't you forget the ease at which She can blackmail you after all these years…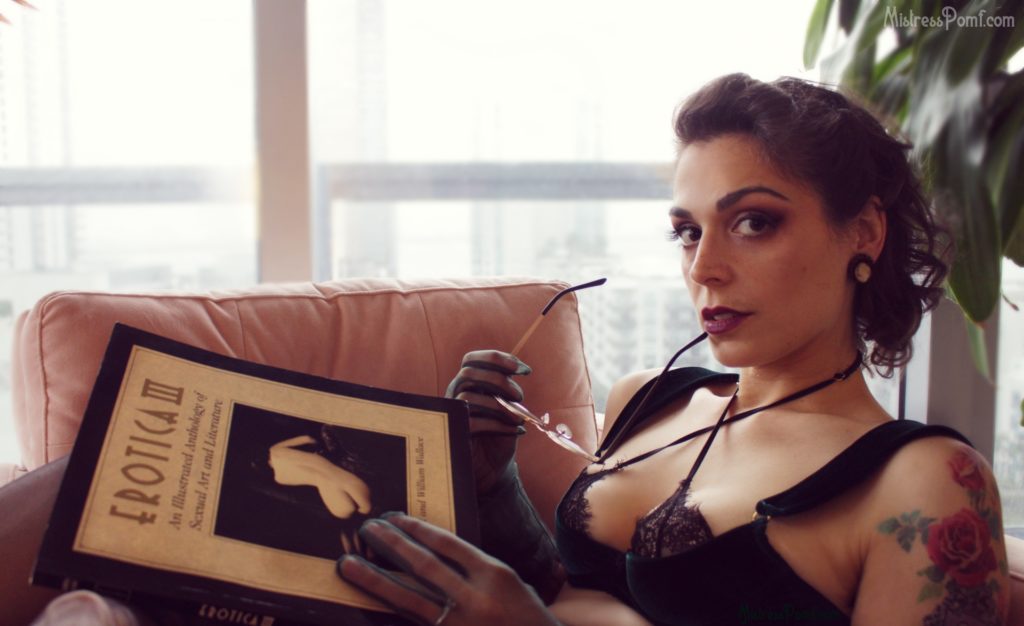 Dominatrix Mistress Pomf embodies BDSM roleplay fetish as she holds her sexy librarian glasses up to her lips and looks at you from afar while reading an erotica book from her BDSM fetish library.
The Secretary: "Pulling your little company together. For what it's worth, Boss, I think you might want to reconsider your stance in this matter,
and get down on the floor where you know you belong.
That's it…
Such a pleasant position you have down there now. Oh, doesn't that feel so good on those knees? I know. You've been quite the overworked man. And that circles back to the other thing I need to inform you about.
You see, Sir,
::CLOSE UP ON RED LIPS SPEAKING::
I don't only have the dirt on you. I've got the grime too.
I've had access to all your secrets for years. The glory, pleasure, and shame.
Right. Just try that.
::CHUCKLES::
You see, even if I didn't have access to your accounts and computer system I'd be able to hack in easily. A Baby Boomer like yourself just can't quite catch up with the most basic level of tech privacy
Remember Boss, I've kept my poise for over a decade around you. Letting go of your obnoxious comments. Trying not to personalize them. I mean, it wouldn't even make sense to. You disgrace yourself around all women.
So, Sir, you can go on and venture into the cumbersome process of firing me and rehiring for my position. You can assume you have some level of control, and be sorely mistaken by suffering the consequences of such pathetic actions—or you can start paying me properly and accept your new position. Of course, you won't be doing much of the paying soon enough.
::GRINS::
Hm… All these years putting up with your bullshit and never letting it affect the stellar job I've done to maintain this fine company. My efforts have been a major catalyst in its growth. (And you know it.). And all the while I've watched the blackmail accumulate on you, gathering and filing every little speck of incrimination.
::CHUCKLES::
Now I can keep those secrets under total control or I can release them… Like a steady drip of ache and misery going from your heart down to your cock and balls, and vice versa. Circulating around that tainted vessel you're stuck living in.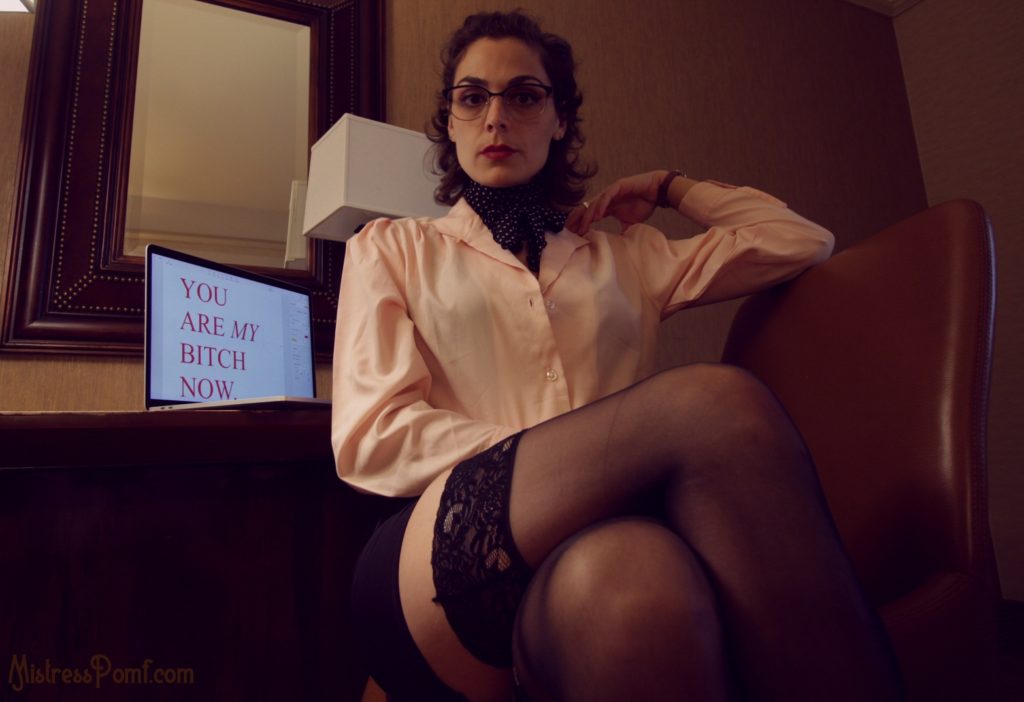 With all due respect Sir, it's time for you to choose. What's it gonna be Boss?
::GRINS::
Now isn't that a lovely choice. The right choice. Thank goodness an imbecile like you sometimes makes wise decisions.
You will also be paying me retributions. And I now own 75% of the blue stock. That 60% that was "yours" is all mine now. I've been responsible for most of its growth now.
I don't think you're actually aware of where that stocks even at. You do tend to be a lazy, entitled schmuck with certain things. Well there will be none of that around here from this point forward.
:: CUPS HIS CHIN FROM THE SIDE WITH HER RIGHT HAND (YES, HIS CHIN IS FINELY DIMPLED) ::
You can begin your morning by acknowledging My importance in your life, your livelihood, your career — from both your past position and your new one— beneath Me.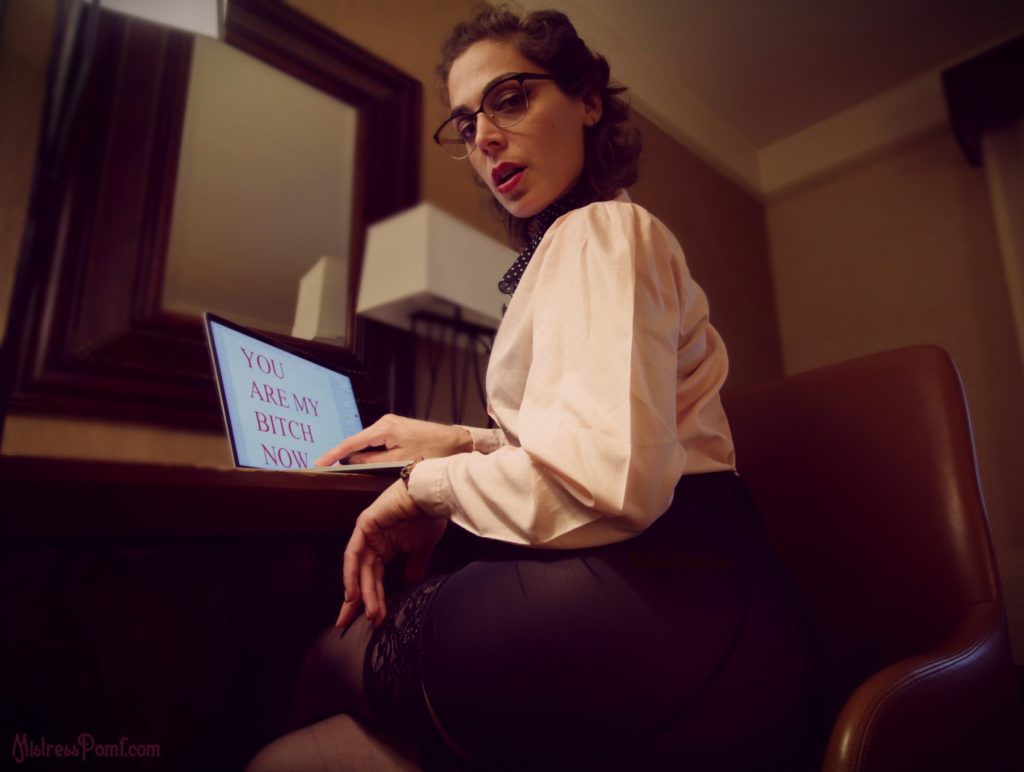 :: THERE IS NOW SILENCE. THE SECRETARY STANDS UP FROM THE OFFICE CHAIR AND MAINTAINS A PENETRATIVE GAZE INTO HIS EYES AS SHE FIXES HER SKIRT AND BLOUSE. SHE LOOKS AT HER WATCH, RAISES HER LEFT EYEBROW, AND THEN LOOKS UPWARD AT HER 10 O'CLOCK. SHE BRIEFLY PAUSES AT HER 2 O'CLOCK. SHE LOOKS BACK DOWN AT THE BOSS. ::
THE BOSS SPEAKS
Oh Sir, I thought I'd never hear those words from you.
--Just kidding.
It's been your dream to get a break for a long time. You've been burnt out but continuing on autopilot. Acting all high and mighty in this company. I'd offer you a sabbatical but, I think it'll do you better to immerse straight away into your new position.
You are going to embrace it and let it embrace you.
On all fours. I have to use the bathroom. And I'm going to do it on you. There will be no breaks for you today. Not even for a quick drink apart from this golden shower I'm about to give you. You're lucky I'm permitting you to lap it up off that floor you've become so acquainted with.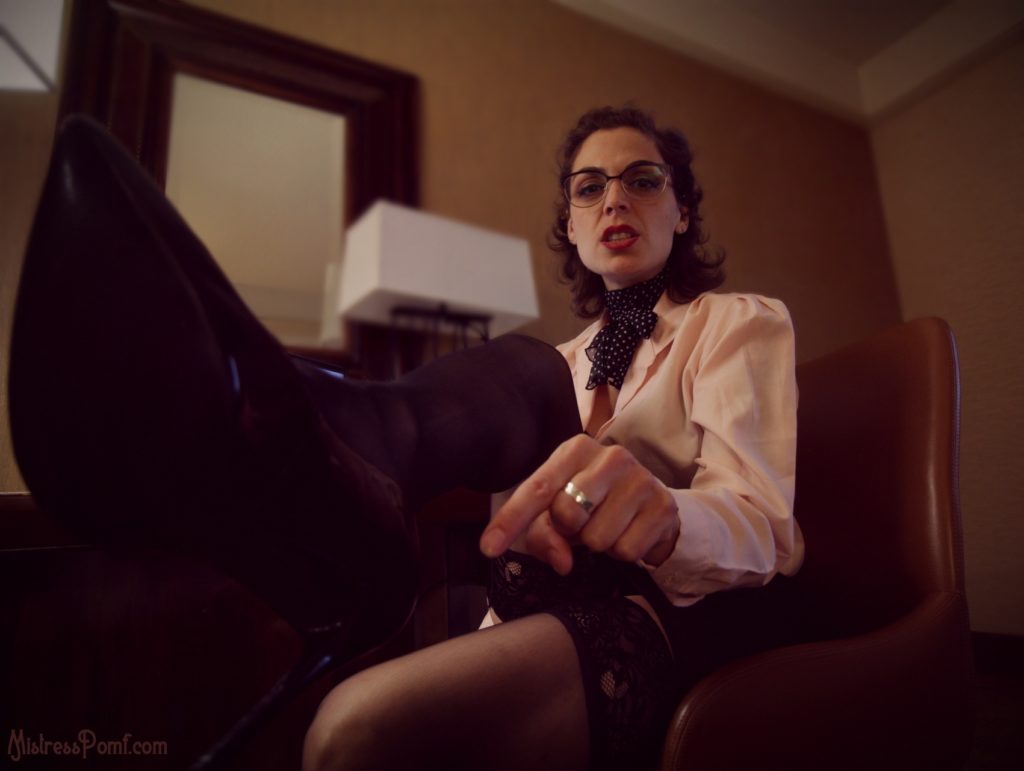 :: THE SECRETARY LOOKS INTO HIS EYES, LIFTS UP HER SKIRT, CARESSES HER LEGS IN A DOWNWARD STROKE, PAUSING ON HER THIGHS, TAPS HER RIGHT FOREFINGER, THEN MIDDLE FINGER, QUICK PAUSE THEN LIFTS HER FOREFINGER UP AND THEN DOWN. HER RIGHT HAND CARESSES HER INNER THIGH, CROTCH, AND PUTS HER FINGERS INTO HER PANTIES, SLIGHTLY PULLING THEM FROM INSIDE, HER LEFT HAND JOINS IN IN THE MAIN PULL AS SHE SQUATS EVER SO SLIGHTLY OVER THE BOSS'S BACK AND BEGINS PEEING GRACEFULLY ON HIM ::
Ahhhhh… Oh yes… I've been holding onto this for too long. "Letting go" really is good for us.
Now lap it up! --Scoundrel.
You should be done and at your desk in 5. No more time to coddle you. I've got a lot of important things to do.