BDSM Submissive Training
Part 1: Your Arrival Outside the Gates of My Goddess Garden
I'm pleased you've awakened enough to find the gates of My garden. Or perhaps My precious terrain heard your call, and outstretched its lushness unto you.
Either way, I must say that if you lack pure intentions, and ones that also resonate with Mine, you will fall out of this space and time. And no longer find yourself in this one graced with My footsteps, and which nestles My feet with such dignity.
Pure Intentions & Dignity
Dignity you wish you had. The true form, which can course through your veins and inspire you into further fruition. Not those false renditions being sold in your society. So let's see for what reason you summon Me…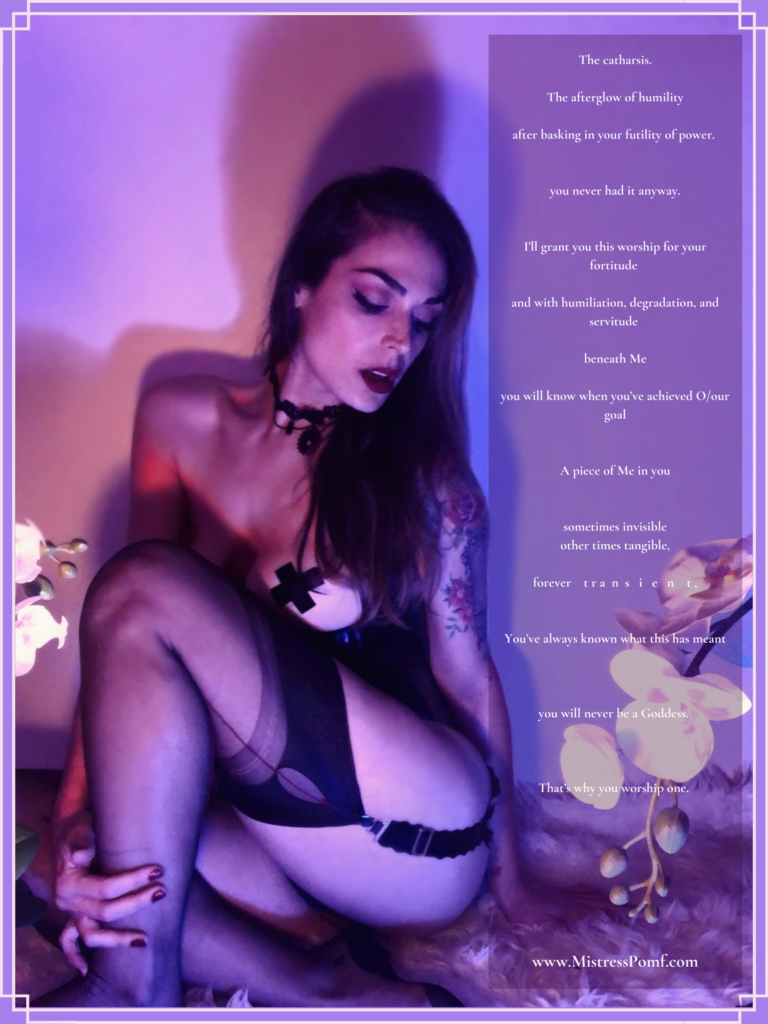 Nomadic Goddess, Mistress Pomf wears fully fashioned stockings while surrounded by orchids.
It better be worthy. There are a number of things I turn My attention away from the instant I deem them not to be. That's easy. Cause you see, it's evolution that exhilarates Me. Not appeasing your trite desires.
My Mission as a Dominant
My mission is in helping you grow, lo and behold, be it through power exchange, BDSM/submissive training or simply conversation.
Surrendering can feel like the skies are raining down on you. It's nourishing with the right mindset and effort.
Your Wishes
So then, what do you wish for as a submissive?
Perhaps you're a fetishist or hedonist, or something of another nature you might not even be sure of just yet.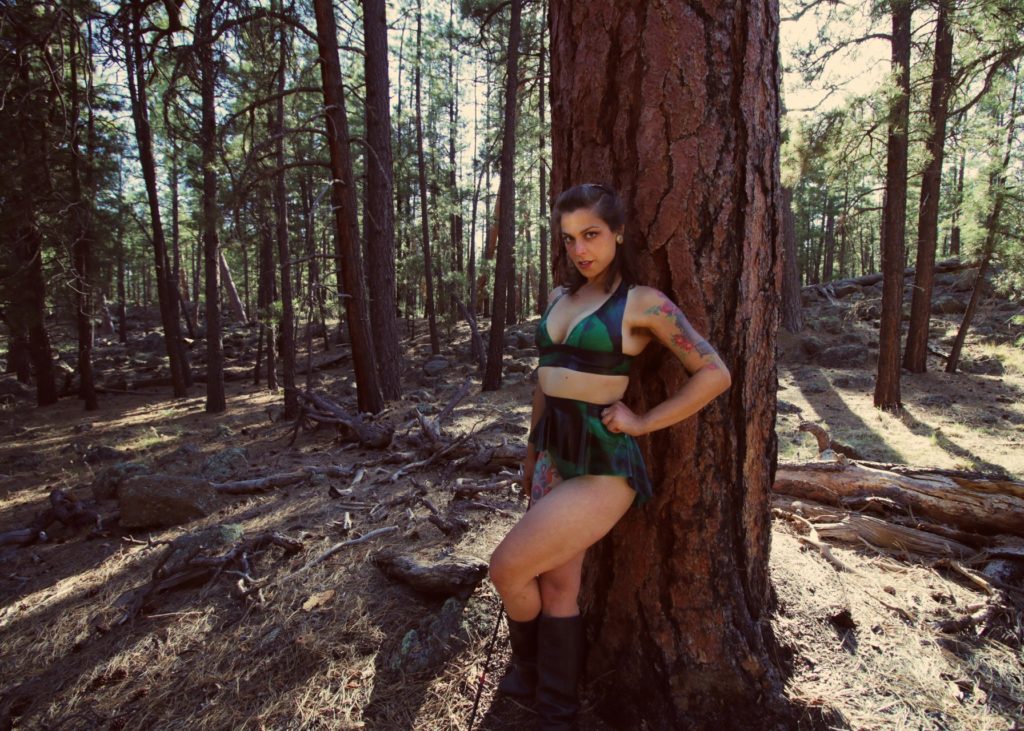 Dominatrix Mistress Pomf stands amidst a forest of ponderosa holding her riding crop as she deems your intent worthy or not.
The chance to explore BDSM, kink or fetish with Me, will have you panting as I dangle the carrot of desire above your head.
Will She make me grovel in Her garden's soil?
Surrender to Me as your Femdom Goddess
Go on a long enough journey and the thought of yourself will vanish as you surrender to Me as your femdom goddess.
I can't tell you if watching you beg will amuse Me or bore Me just yet. Either way, when you're in My hands you become like putty for the molding. And I always have fun with putty.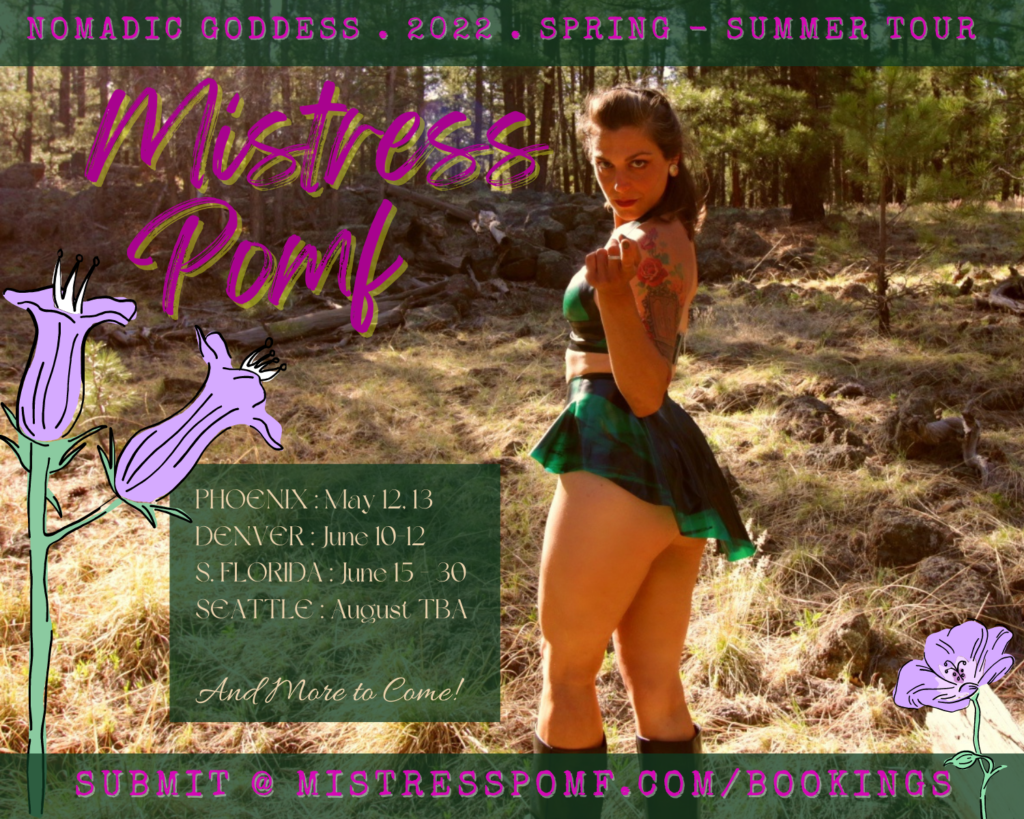 Tour ad for BDSM submissive training by Dominatrix Mistress Pomf shows her standing in the forest, cloaked in shiny green latex and as she beckons you closer with her finger. Phoenix, Denver, South Florida, and Seattle are listed in her spring-summer 2022 tour schedule.
So don't worry. I am an artist of many trades, and a kink scene is one of My favorite forms of creation. Sessions are compositions, and as Dominatrix Mistress Pomf, I'm here to guide you in your quest.
Your Sexual True North
What quest?
The one for your sexual true north. I know you feel that buzzing inside. Are you ready to release those bees back into My garden?
They belong in it, but you won't hear Me scream about it because I know that honey does always get more than vinegar. And because you see, a goddess need not beg.
So, you can either keep them hostage as they pester you, all the while being in such a state of disarray, or you can enter My garden and learn just what to do beyond the words I speak in this present moment…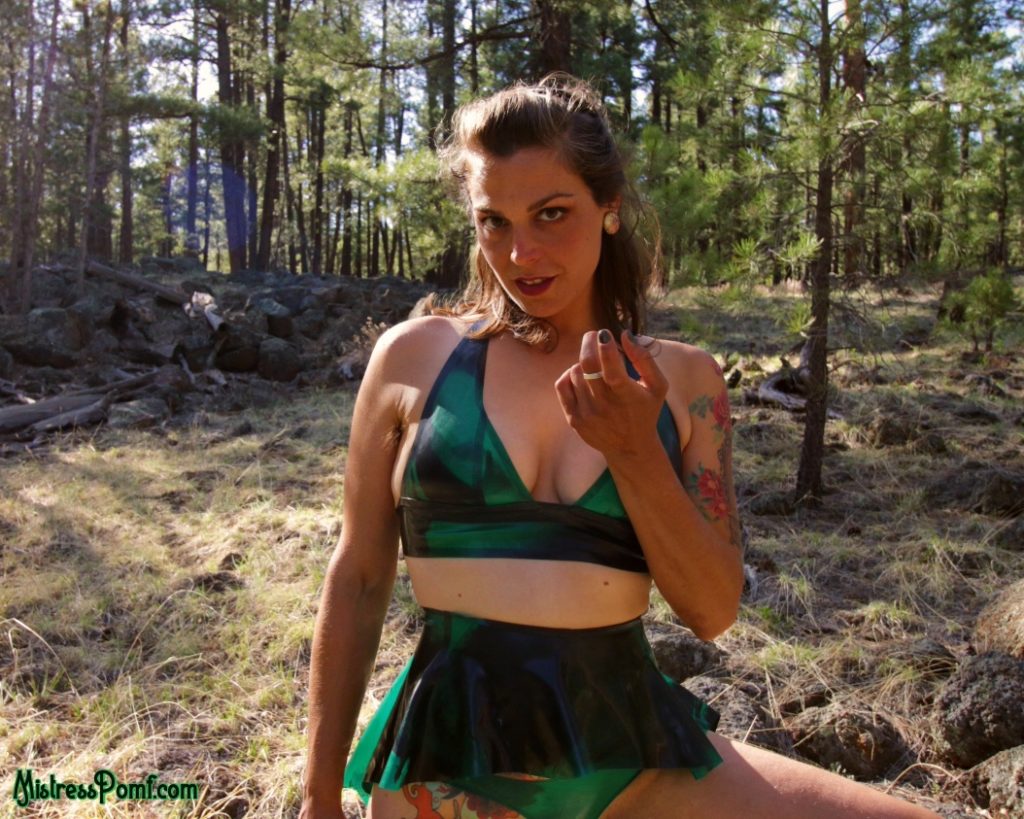 Dominatrix Mistress Pomf stands in the forest, cloaked in shiny green latex and as she beckons you closer with her finger.
Fear Not — Or Learn to Embrace Your Fear
Am I being manipulative? ::Laughs:: Remember dear, I pay reverence to playing SSC. You'll always have the chance for a pre-play and post-play chat with Me. Negotiation, communication are both needed for BDSM training. Regardless of orientation.
So let go. Fear not. Or, learn to embrace your fear when with Me.
And "Consider that fear or aversion and desire always go hand-in-hand. It's impossible to desire something without also fearing it a bit, and it's impossible to fear and dislike something without also desiring it." (Elliott, Ph.D 56)
Go over that again slowly if you're too daft. Or if you want to immerse deeper as I like to do.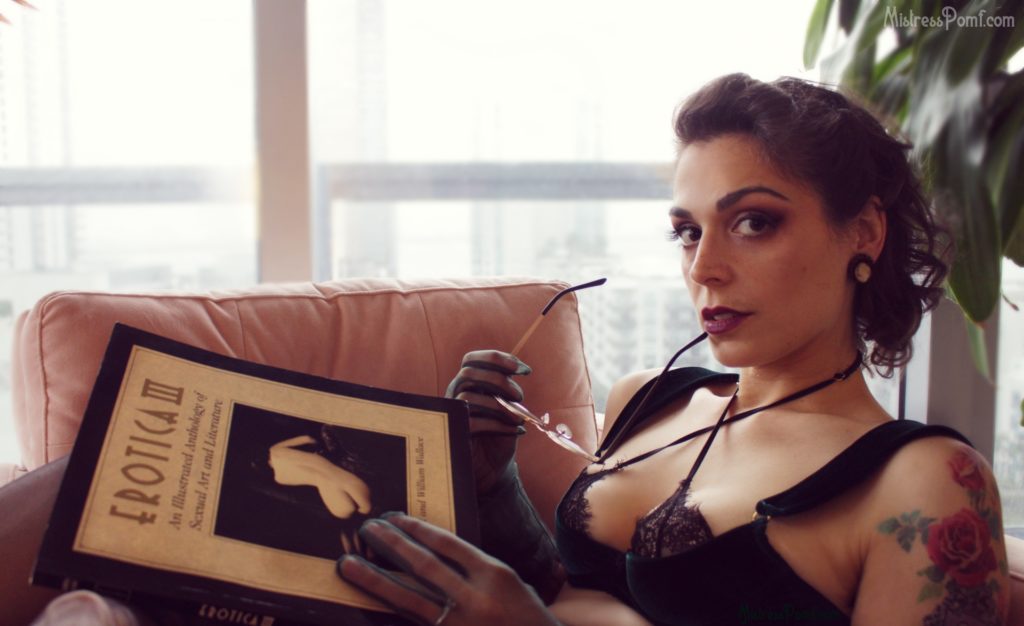 Dominatrix Mistress Pomf embodies BDSM roleplay fetish as she holds her sexy librarian glasses up to her lips and looks at you from afar while reading an erotica book from her BDSM fetish library.
Your Blossoming in My Goddess Garden
I am curious for the reason you wish to summon Me. It may seem baseline at the moment. You may not be awake enough to know what the true reason is. That's alright.
As My creation, your blossoming is a work in progress. To be continuous in My garden which you may devote. Grovel, grovel. I'll leave you be for now, at least.
Wait a minute. What do you even know about Me, Mistress Pomf? Hm?
Fine. I'll drop a few more crumbs, should you still be so hungry whilst outside My gates…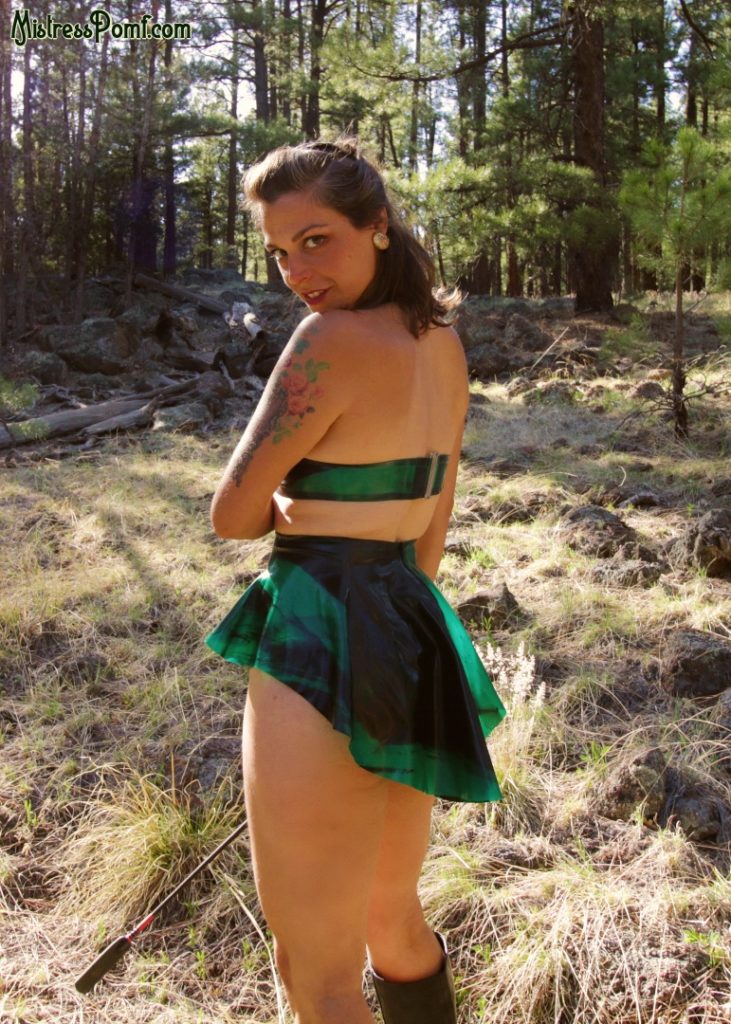 Dominatrix Mistress Pomf stands cloaked in shiny green latex as she flirts with you in the forest.
TO BE CONTINUED...
Are you ready to float in the ecstasy of your submission?