Guide and Archivist
The Librarian is the guide and archivist of The Mistress Pomf Collection. Her presence leads you down the story lines of the dominant personas in My role-play repertoire. She integrates the universe of characters as the books of the library enable her to travel into any dimension or time period. Thus, you may meet dominant personas from a variety of places and moments in time.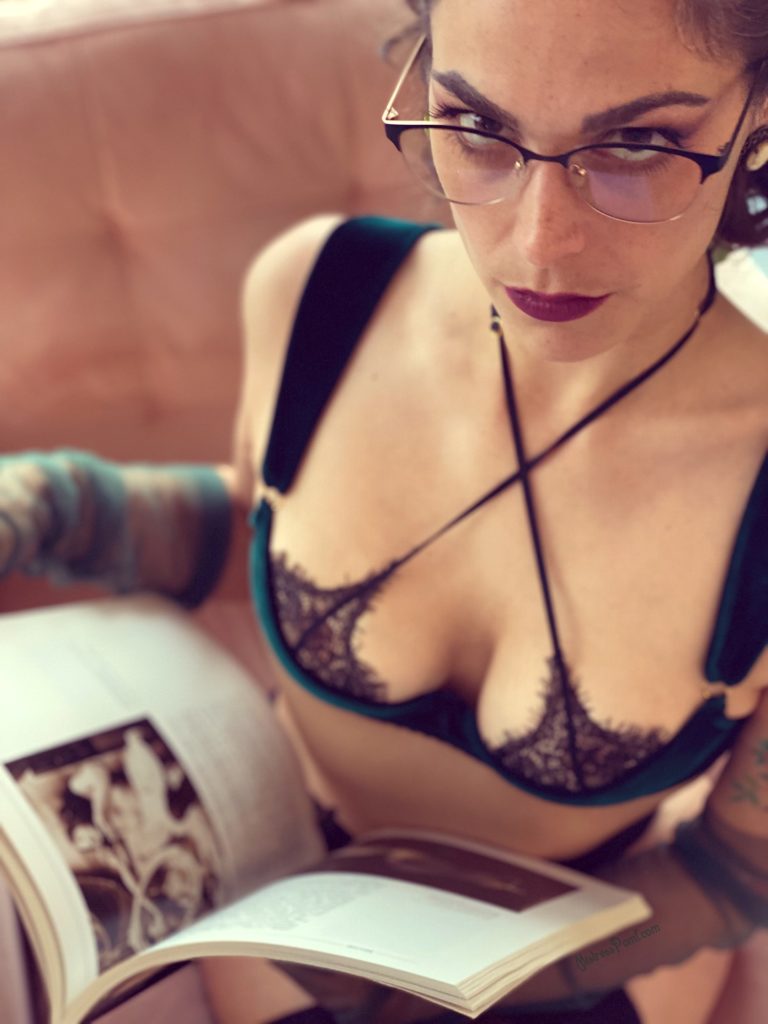 Dominatrix Mistress Pomf roleplays as The Librarian, eyeing you as she looks up from an erotic art history book from her BDSM and fetish library.
Prepare to be Teased, Titillated, and Educated
The Librarian collects fine objects from her travels. These keepsakes may be modern or antique. Her pocket-watch serves both as a time-keeper for the library's hours and a means of countdown for your orgasmic release—should you be permitted of such things.
Prepare to be teased, titillated, and educated from her erotic art history books. My hope is for us to have fun exploring connections and knowledge about human sexuality.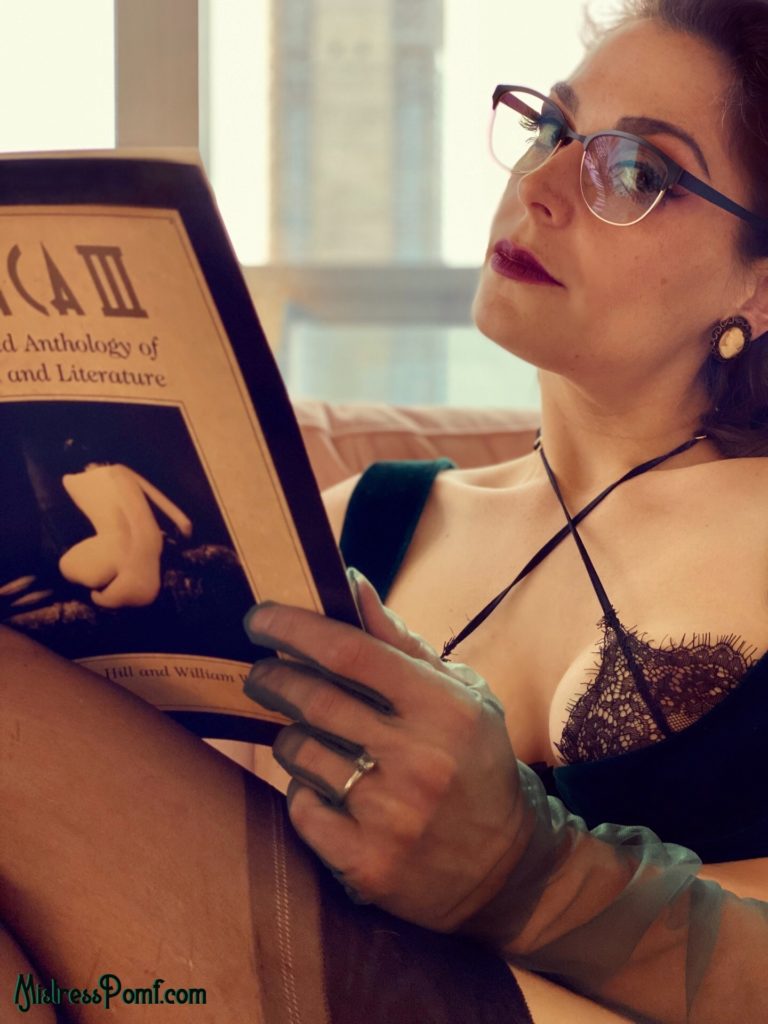 Pro Domme Mistress Pomf indulges in BDSM roleplay fetish as she looks at you through her sexy librarian glasses whilst reading an erotica book from her BDSM library.
Shh! Be quiet! This is a library you ignoramus.
Since The Librarian is highly educated it's natural for her to humiliate you using advanced vocabulary.
"Shh! Be quiet! This is a library you ignoramus. Noisy patrons such as yourself are spoiling the atmosphere. Stop behaving like an imbecile or I will ban you."
Of all My repertoire, I've invested the most energy in representing The Librarian so far. This isn't My first time presenting her though. She's a persona I've enjoyed playing since My mid-twenties, when I performed burlesque acts as her.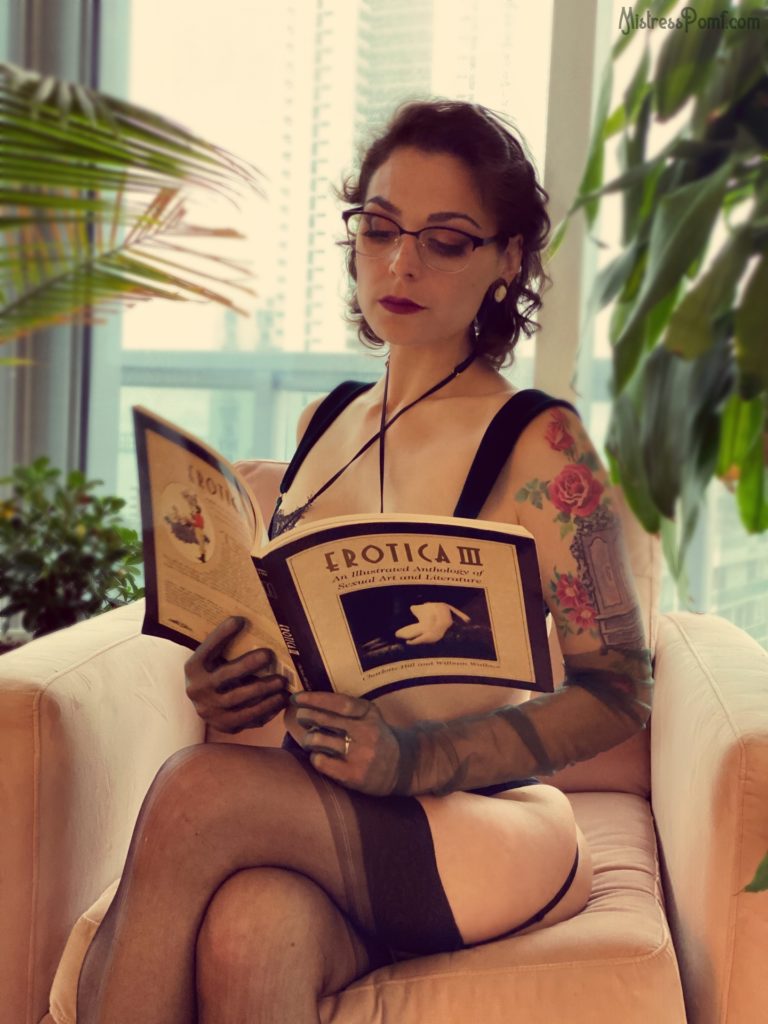 Pantyhose Dominatrix Mistress Pomf roleplays as the kinky librarian as she reads from an erotic art history book from her BDSM library.
When I entered the world of professional domination, she was the persona I channeled to represent Me as Mistress Pomf. There is an icy blue photo set which features her and is beloved by many.
"I've included some photos from that set in this article as a reference of course. The entire catalog can be found in Mistress Pomf's website Gallery here.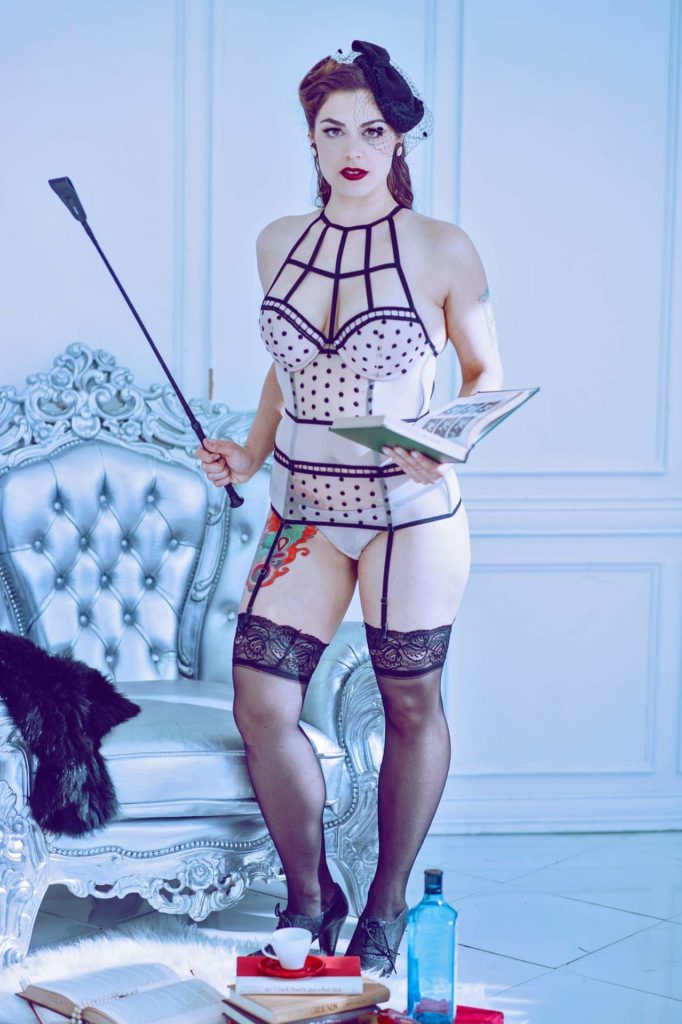 Florida Dominatrix Mistress Pomf looks sternly at you as she holds a riding crop in one hand and open book in another.
Should you be permitted to download Mistress Pomf's images make sure to give credit where its due. Do not cheapen Her enterprise by posting Her material on the internet without proper citations such as links and watermarks. And above all, do not cheapen her work by being a pirate or supporting piracy."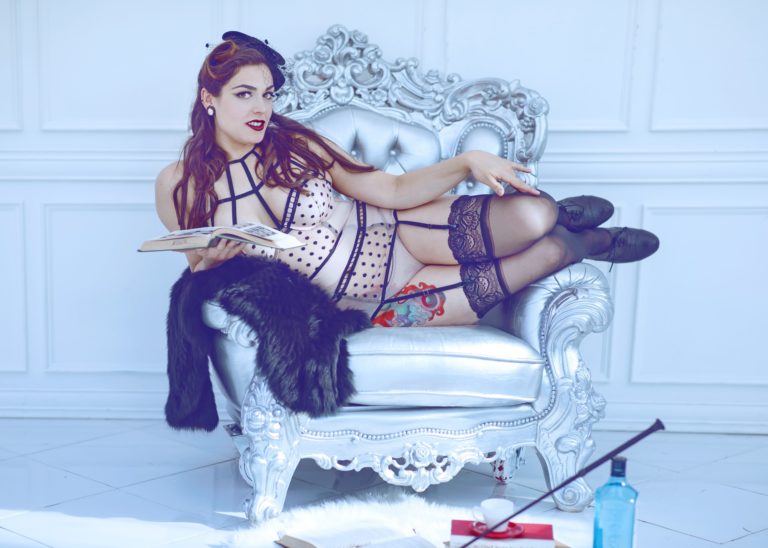 Sexy Librarian Dominatrix Mistress Pomf roleplays in thigh high stockings lounging in her wing chair holding an opened book.
A Note On Plagiarism & Piracy of Sex Workers
Should you freely stream Femdom porn and other content produced by sex workers, know that...
"Most porn ISNT free. Most porn, unless a verified model uploaded it, is stolen. And this Tube site model directly takes money out of the hands of sex workers… an already disempowered, marginalised and criminalised group of people.

Why do you feel entitled to the free sexual labour of strangers? Why do you expect a marginalised group of people, who have been some of the hardest hit by 2020, to not be compensated for the work they lovingly created that you enjoyed? And, is a person who values their momentary physical pleasure over the ability of a criminalised group of people to survive, really the kind of person you want to be?

Seriously, pay for your fucking porn.

I promise you, ethical orgasms feel even better."

-Mistress Lola Ruin

in

How Much Does It Cost To Make High Quality Dominatrix Porn...
Role-play Dominatrix Mistress Pomf embodies the librarian as she holds an open book and looks at you with her stunning brown eyes.
Why I Love The Librarian So Much ~ Kinks & Fetishes
Why do I love the persona of the librarian so much? It's a fixation for Me that is both personal and sociological. I would classify this fixation as a kink for Me but not as fetish.
If you browse the web you may notice the term "librarian fetish" used more often than "librarian kink." It is typical for the word fetish to be used interchangeably with kink, though they are not the same.
Fetishes are beyond the threshold of kinks. I like to enjoy and indulge in this persona and what it offers, but I do not need it to experience sexual pleasure. To read more about the difference between a kink and a fetish, check out sex therapist Dr. Torrisi, Ph.D's explanations in this article here.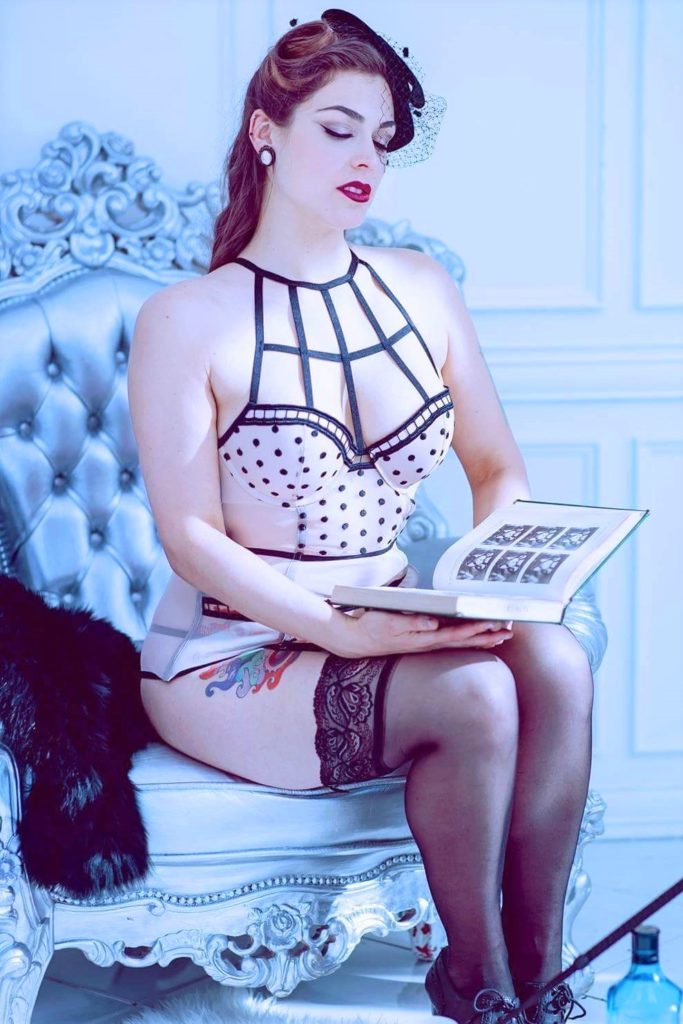 Pantyhose Dominatrix Mistress Pomf roleplays as the sexy librarian as she reads from an erotic art history book from her BDSM library.
BDSM Roleplay Fetish
What I would classify Myself as having is a roleplay fetish. It is rare that I experience sexual pleasure without some form of role-play done at least mentally, even secretly. This topic is expansive and will have its own page. Once published in the upcoming weeks, I will link it here.
In regards to librarian roleplay, the options seem limitless. The Librarian can present a plethora of scenes and roles at the turn of a page. How cool is that!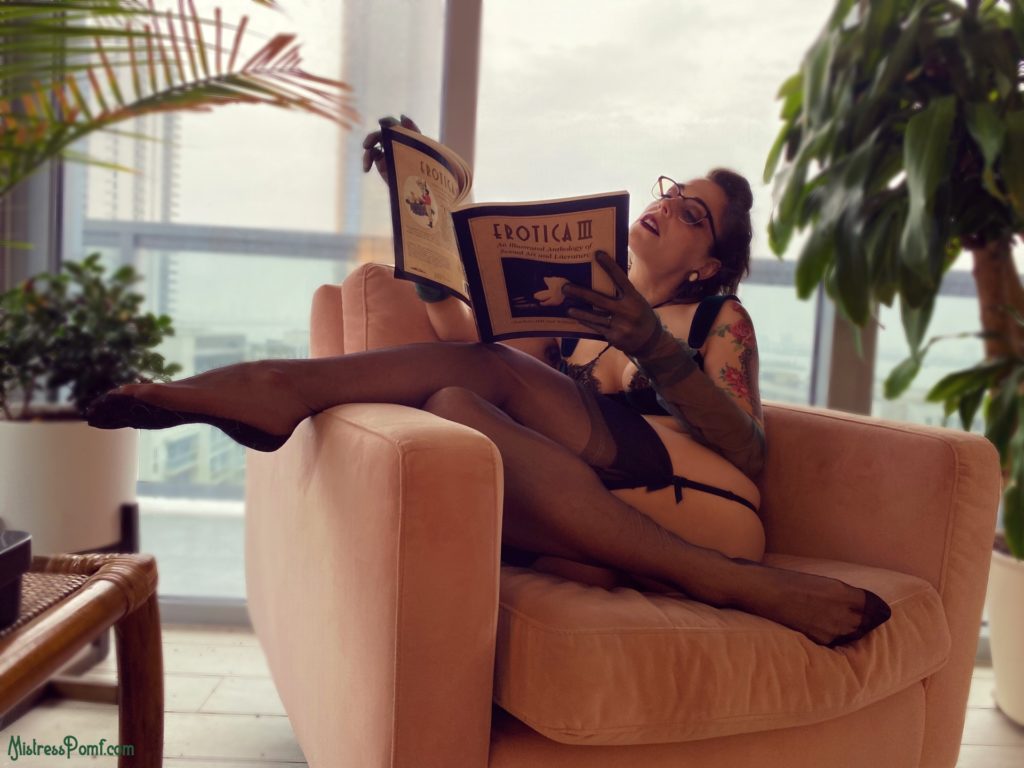 Florida Dominatrix Mistress Pomf roleplays as The Librarian surrounded by tropical plants as she reads erotica.
Personal Fixation ~ For the Love of Books
As is common with kinks or fetishes, My personal fixation runneth over from My formative years. I grew up in a home filled with antiques, collectibles, and an enormous amount of books. Many of these books were over a hundred years old.
I was instructed from them regularly even though I still went to school in person. The at-home teaching I received could be akin to one provided by a highly educated governess.
Today, books are a bit of an obsession for Me to the point where I've had to practice abstaining from one of My favorite pastimes. Going to bookstores, especially used and rare bookstores, makes My heart jump and My arms full! If I'm going somewhere for over a few weeks I end up taking a bag of them with Me (so long as it's not a backpacking trip of course)!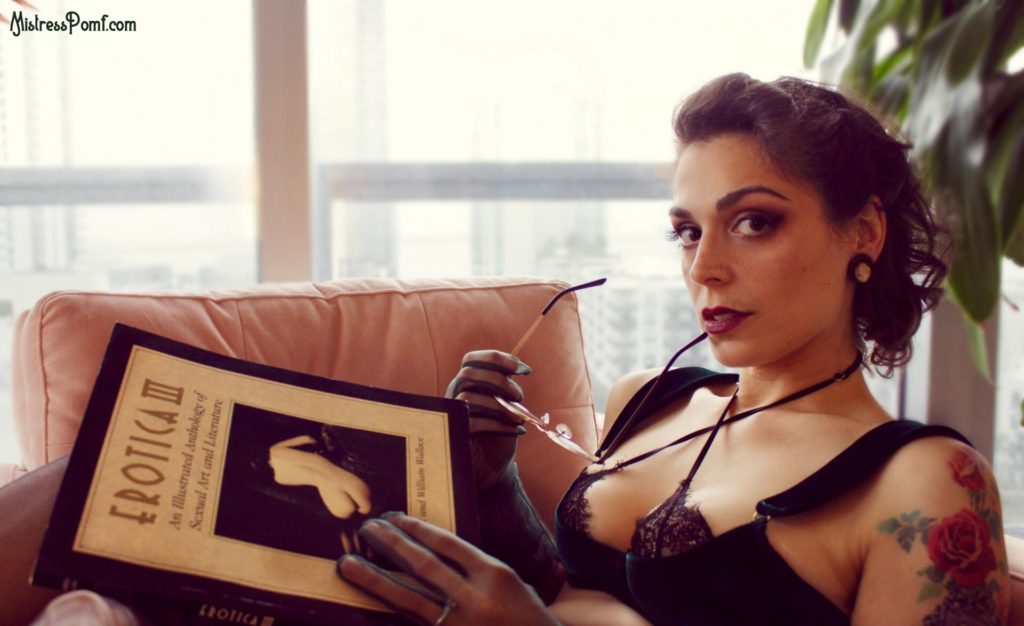 Dominatrix Mistress Pomf indulges in BDSM roleplay as she pauses from reading an erotica book from her BDSM library and holds her sexy librarian glasses up to her lips while peering at you.
Immerse In a Book and Escape...
Fellow book lovers understand My insatiable appetite for the book. They are often quick to agree that the digital version, despite its perks, can never replace the traditional book. We like the feeling of its tactile nature, its smell, and the security blanket it often provides.
Immerse in one and escape. Travel through time and alternate dimensions. "Books are a uniquely portable magic" as Stephen King says.
Sapiosexual
Another component of My kink developed in My formative years is an admiration for intelligent people, learning, and resources of knowledge. Research and the preservation of resources is valuable.
Even if a resource is flawed or biased we should be careful not to simply fall prey to palimpsest. If you know what palimpsest means off-hand, you may be My type. I am thrilled by those who I can have mentally stimulating conversations with. Sure, one might consider Me "sapiosexual."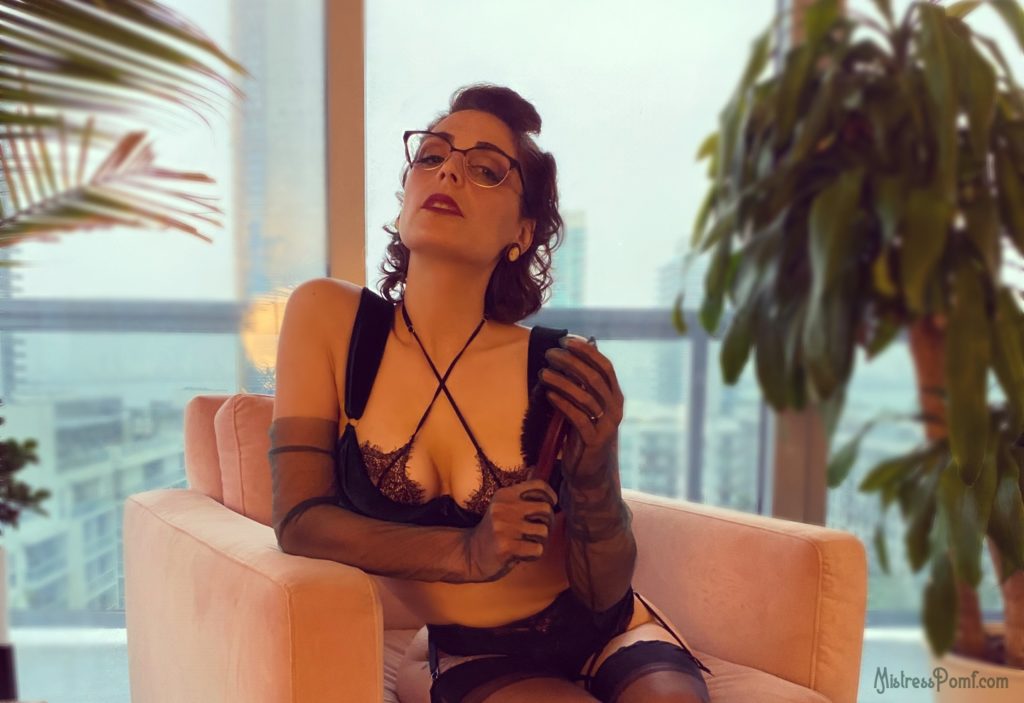 Kinky Librarian Dominatrix Mistress Pomf is  ready to enjoy spanking fetish with her wooden hairbrush.
"Sapiosexuality is romantic or sexual attraction based on intelligence. One who identifies as sapiosexual may be aroused by stimulating conversation, challenging debate, or impassioned speech. The attraction is based upon mental stimulation. Some describe this as being attracted to minds rather than bodies (Kinkly, 2016)."
Some of the most stimulating conversations are about human sexuality.
History of Erotic Art
I've spent most of My life enamored by human sexuality and creativity. I graduated from college with a degree in art history. The final thesis paper I wrote was titled "Emblems of Edo, Ukiyo-e Shunga and Social Inquiry." It was an investigation into the existence of Japanese shunga (erotic) Ukiyo-e woodblock prints made during the Edo period (1603-1867, present-day Tokyo).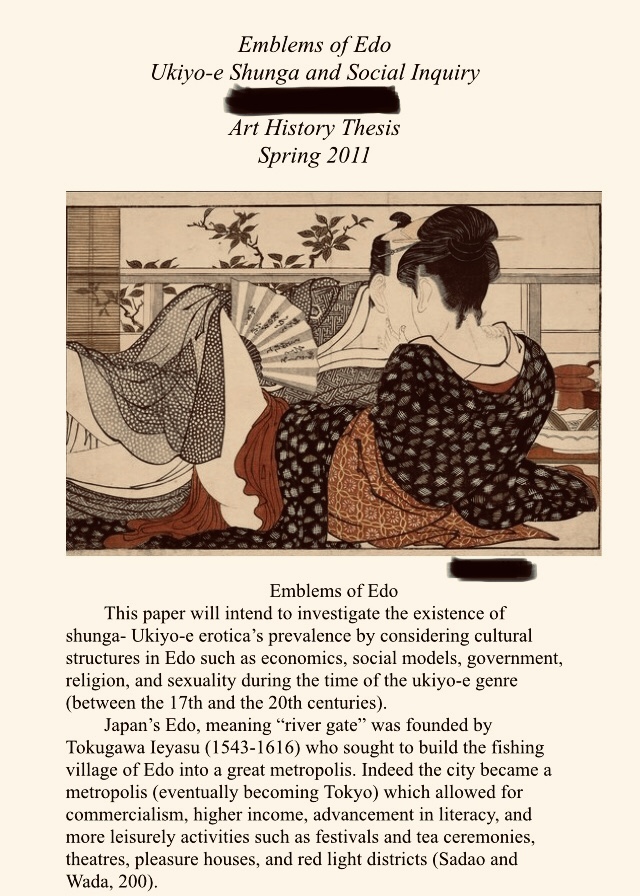 Emblems of Edo, Ukiyo-e Shunga and Social Inquiry Art History Thesis Cover Page
To Explore and Deconstruct Taboo
My history of art classes always discussed ukiyo-e art and its influence on western artists of the time, such as Monet, but they never mentioned the huge amount of erotic ukiyo-e that was produced. Pretty much every artist who made ukiyo-e prints made the shunga variety. I was determined to shed light on the matter. You see, I've always been on a mission to explore and deconstruct taboo.
My professor was delighted to okay My chosen topic. I researched the prevalence of shunga prints and considered cultural structures in Edo such as economics, social models, government, religion, and sexuality during the time of the ukiyo-e genre (between the 17th and the 20th centuries). If you're wondering, yes, I did ace My thesis. I may even choose to turn it into a blog, albeit a 20 something page long one!
The Librarian Saves the Day
It's been 10 years since that thesis but My fascination with erotic art is still alive. I've wanted to incorporate more erotica into My adventures as Mistress Pomf. The Librarian in My role-play repertoire will do this subject justice. I can't wait for her to expand your knowledge and enjoyment of erotic art.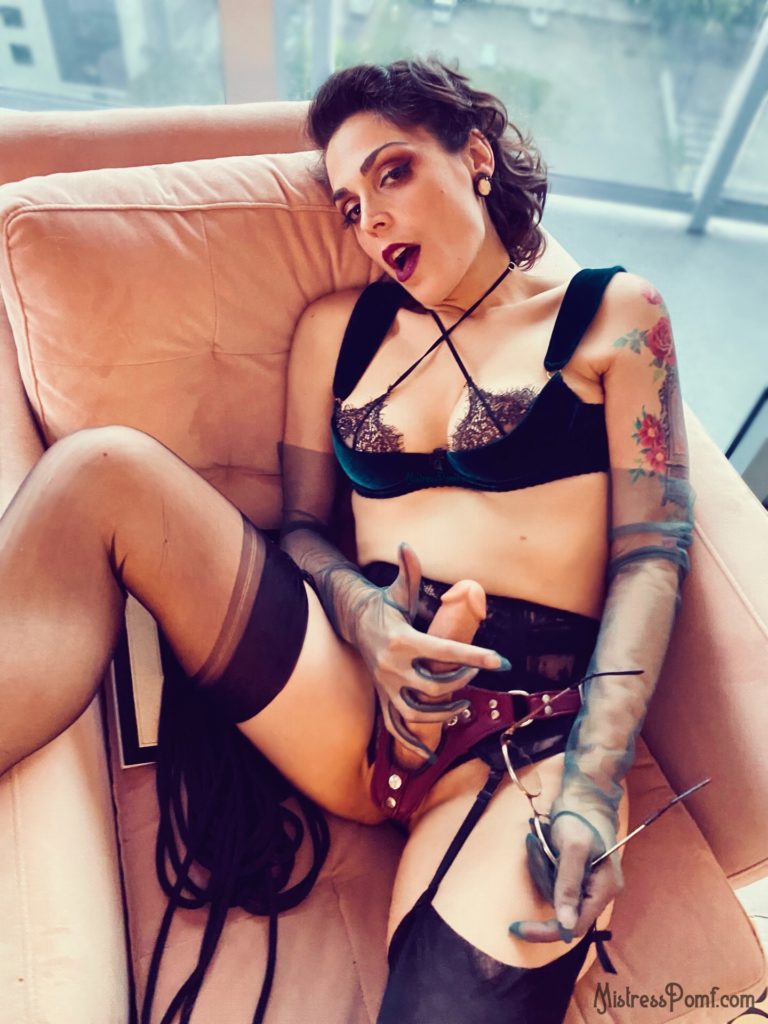 Dominatrix Mistress Pomf roleplays as The Librarian lounging in a soft pink velvet chair with one gloved hand stroking her juicy strapon cock and the other holding her glasses.
Librarian Fetish and Me—a Bad Feminist?
I intend to portray The Librarian as more than the "sexy librarian stereotype" noted as nostalgic and embedded in the American psyche. Surely My fondness and representation of her may be criticized as purely fetishization. Some may view Me as a bad feminist for indulging in societal stereotypes that sexualize women.
Regardless, delving into the psyche and bringing it to life with curiosity and care is worth something to Me. One cannot do this without suspension of judgment. This has always been a motivation for Me in both My personal healing journey and My artistic work. Which realm does My craft as a Dominatrix factor into? Both.
Suspension of Judgment
When I performed burlesque acts as The Librarian she was favored by queer femmes (possibly even more than straight men). These queer femmes were no strangers to gender studies. But you see, it's important to note that the practice of kink includes accepting that many kinks and fetishes we have play off of societal stereotypes and suppression.
When done right, kink/BDSM allows us the opportunity to explore in a safe and supportive environment free from the judgements of the outside world.
Granted, as the culture at large (outside of kink) has been changing there are many arguments and rifts within the community. Some do not believe that it is justifiable to explore controversial things such as stereotypes or race play.
Cultivating Beauty, Grace, & Knowledge
The Librarian of The Mistress Pomf Collection exists to cultivate beauty, grace, and wisdom of the divine feminine. She is fearless in her endeavor to examine, puncture, and pierce through the suppression of knowledge.
She is the bookish part of Me with an insatiable appetite for learning and teaching. Do not typecast her as some sort of cute "nerd." This woman has pure confidence to go along with such a sharp mind.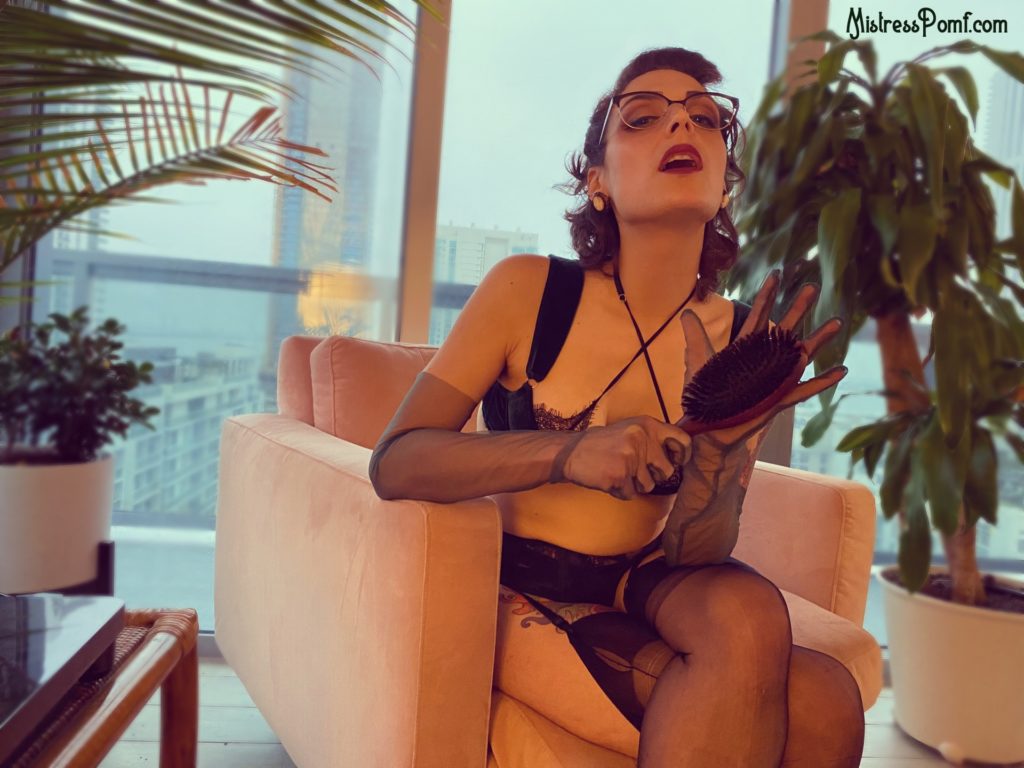 Dominatrix Mistress Pomf roleplays as the kinky librarian peering down at you through her glasses as she wears green velvet lingerie, stockings and gloves, and mildly threatens to spank you with her wooden hairbrush.
Patience and Haughtiness
With this mind, she is capable of great patience, yet can be haughty— especially when she's had enough of your idiocy. Nonetheless, she has etiquette, a thirst for protocol and the correction of your mistakes. Despite her ease at demeaning you, she often weaves a backbone of positive reinforcement into her encounters with patrons such as yourself.
"Oh this book. Now isn't that a fine choice My dear.
The vocabulary might be a bit of a challenge for you. We do have a study group on Wednesdays at 7 should you need a little extra push to fill in any gaps in your vocabulary. I hope you'll join us."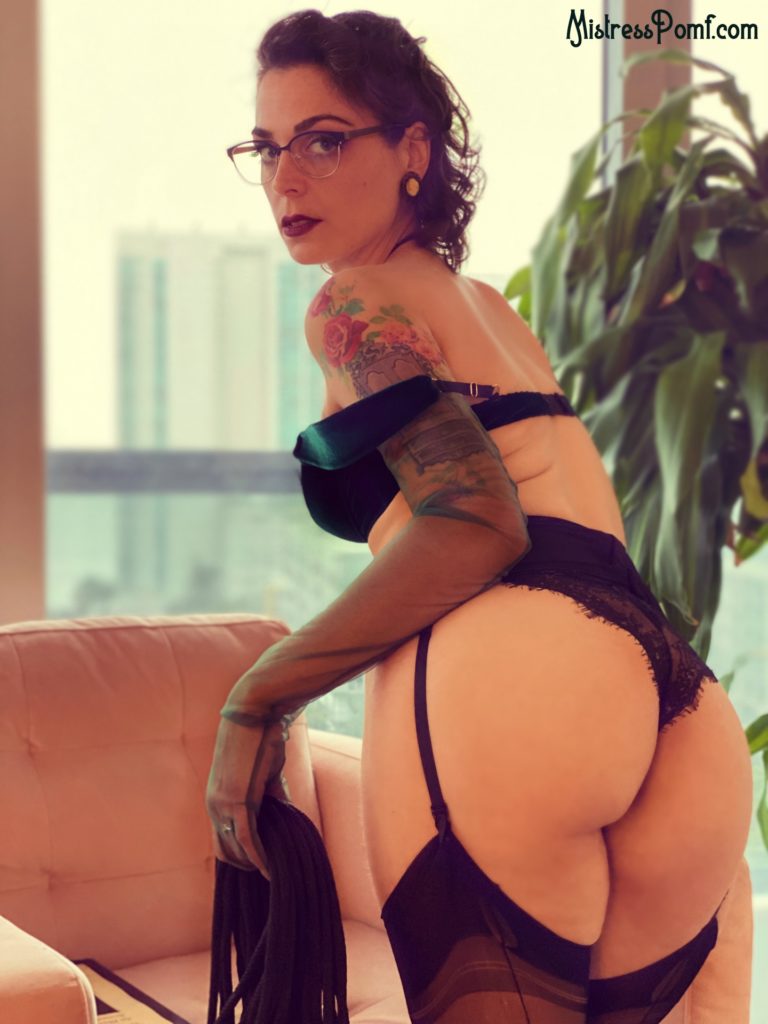 Dominatrix Mistress Pomf roleplays as The Sexy Librarian holding black bondage rope as she peeks back to catch you staring at her gorgeous Femdom ass.
A Worthy Patron
Even if you subconsciously label The Librarian as a spinster, I have no worries you won't fall prey to her unique qualities of seduction. She is indeed sapiosexual, so don't get your hopes up My dear. The lovers she chooses are Mensa status. Regardless, it's perfectly fine for you to have a crush on The Librarian as she charms you with her intelligence.
The rope she carries functions both as bondage and story line. May you gain much on the quests she invites you to embark on, or at least be a voyeur of. The tales she unfolds will bind you in captivity as good reads always do.
Be a worthy patron and bask in her readings. Otherwise, face the consequence of being wound up as a tasseled bookmark—slammed shut, confined, and sensory deprived… yet nestled within the pages of her book nonetheless…
Yours Truly,
Mistress Pomf, Professional Dominatrix