Facesitting is the heart of Femdom breathplay. If you haven't already found your place beneath My ass then what are you waiting for?
Plump, luscious, gorgeous…  A divine and succulent fruit you will worship and thirst for but never possess. My perfectly shaped bum engulfs you as I laugh knowing I'm controlling your every breath.
I know you hated it when last session came to an end. I know you burned inside longing for My presence. It's never enough. It never will be. Recognize this slave. Accept it. you're going to learn to treasure every moment I share with you.
Invited Back to My Realm
you've proven yourself a respectful submissive and been invited back to My realm. I greet you cordially. "Do you need to use the bathroom or anything?" you're nervous, so you try and go. What are you afraid of? Are you intimidated by My fierce and exquisite beauty? My bold yet elegant presence? "Meet Me in this room when you're done. I expect you on your knees in front of the throne."
you do as I say. I'm not waiting in the room. you wait on those knees of yours. For all the purposes they're used for this is by far the best.
The door opens and the click of My heels begins. Their sight is a stimulating memory. Shiny, patent, classic black. I walk gracefully in front of you. A pin-up girl who will command your every move.
A Privilege Only Some Get
The skirt you begged Me to wear looks even more incredible than in the photos. Still, you can't help but wonder what kind of panties I'm wearing. Are they latex? Lace? Silk? Might they be full bottomed or g string? you''ll find out on My time. And the time is within My control now. you remind yourself how good it feels like to let go and forget the outside world and your worries. Giving up control and submitting to a Goddess is a privilege only some get.
Chances are whichever panties I'm wearing will be saturated in My juices by the end of the session. you won't know this. It's My secret. But it's obvious smothering you brings Me joy. Facesitting is an huge kink of Mine as a Femdom.
I give only what I feel like giving you and what I believe will improve you as My sub. And that means you will likely never get a taste. But you're prepared to be teased and tormented into oblivion. Maybe you'll get something else. While some people won't understand how this gets you off, I do. Although you may think you're alone, you're not. Teasing is an art form I excel in. The enjoyment of being teased, or even teased and denied, is a thrill cherished by many a submissive.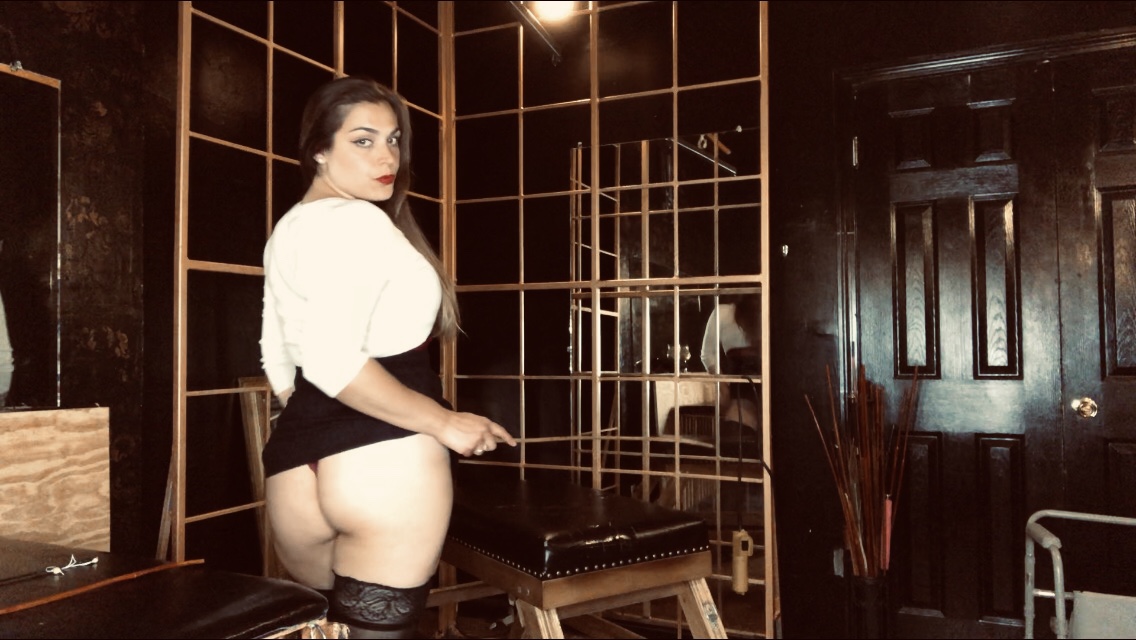 I'm barely even touching you...
you are at My service. Sometimes I transform you into a simple cushion to sit on while I read an art book. Some even devote themselves as My toilet. Perhaps the latter is too far for you to go. Or maybe you are a tad curious? you're relieved that even if you can't serve that purpose I'll find others for you as your Mistress. Don't worry, I want a mutually enjoyable experience. I want a perfect yin and yang of harmony to embrace us.
I gently, yet firmly bind your ankles and wrists. Now there is no escape. Soon I will be completely taking you over. But first, I begin teasing you. With My body above yours I get close to your face. "I'm barely even touching you…" I whisper in your ear. I giggle and slink off the cage bed.
Was it this skirt?
"Eyes on Me. Do exactly as I say. Let go of your breath."
You don't even know if you were breathing in the first place but you follow My commands.
"you are only going to breathe when I tell you to."
"Yes, Mistress Pomf."
"Was it this skirt you begged Me to wear? And there was something about the scent of dirty things. Things I might wear for days at a time till they're ripe with divine aroma…
Breathe. That's it. Hold that breath in. And watch. I want you think of their smell."
I turn around. One hand balances on the arm of the throne. I turn My head and peak at you. My hand glides down My skirt.
"Exhale."
The cut out V in the back of My skirt is pulled up exposing My thighs. They're strong, muscular. you're curious how it'd feel if they were to choke hold you. you're dying to see My ass but you know patience is a virtue. you release mental control again. you know your fate is in My hands and that's a good fate to not get to decide.
"Breathe.
Mmmm…"  I moan and move My skirt back down. I bend slightly over and you watch as My fingernails trace My bum. The skirt still clings to it as I peak at you again. My red lips flirt.
"Mhmm… exhale...
And now you're going to breathe like it's your last breath."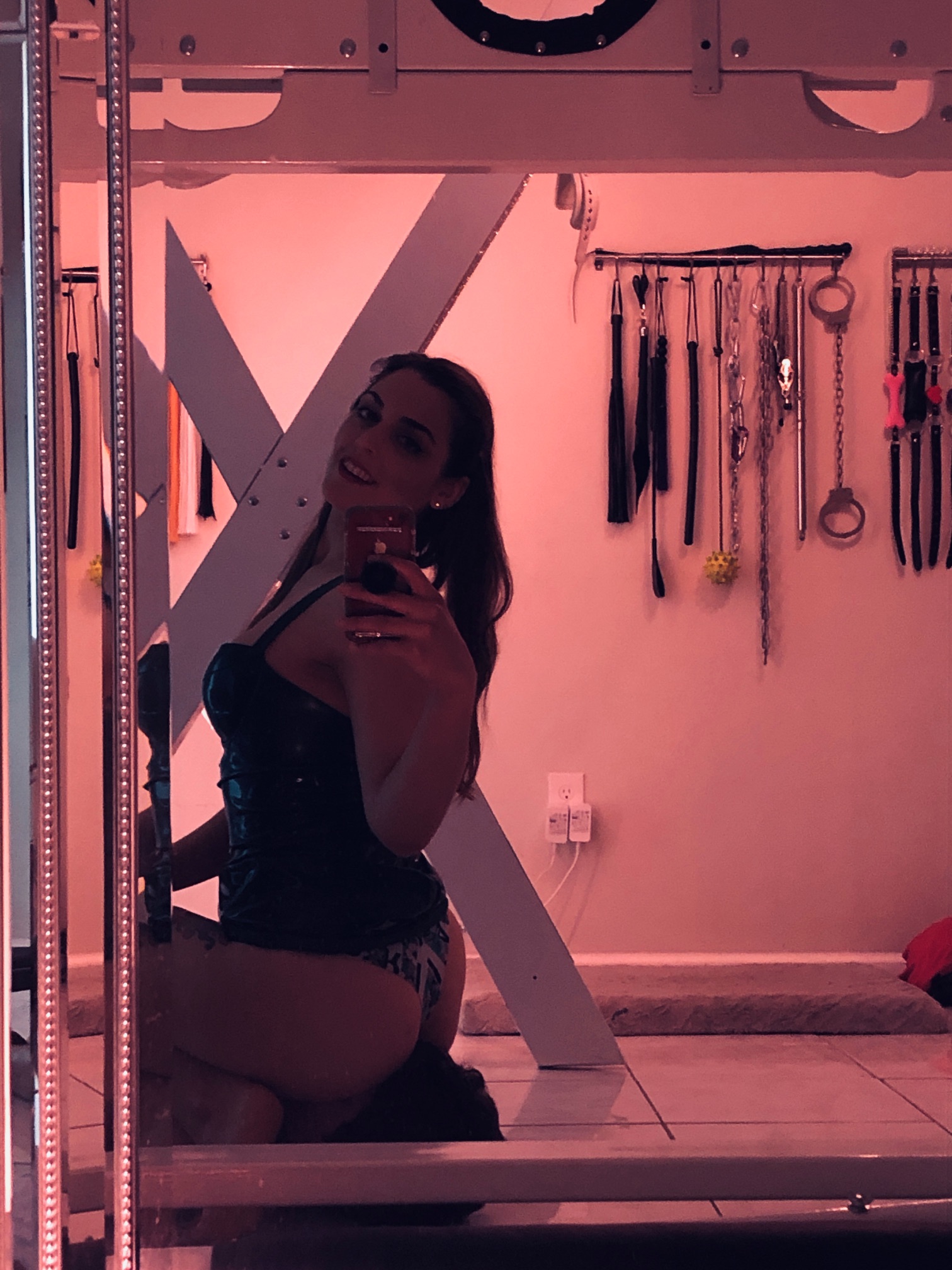 I think you're learning to breathe properly now.
I clench the ends of My skirt and caress it upward. Oh the sweet sight of where the bottom of My bum meets the top of My thighs. How far will I pull it up? Maybe a tad higher…
"Exhale. Ah, that's a good slave. I think you're learning to breathe properly now."
I pull My skirt down and sit on the throne, propping My legs on its arm. My sheer stockings are beautiful but you can't take your eyes off the new up-skirt view resting on the seat.
"I haven't told you to breathe yet. Do not breathe or you will be punished."
I'm laughing inside but you wouldn't know. When am I going to tell you to breathe again? Before you know it you hear the clink of My heels. I'm on the cage bed lifting My skirt all the way up. My voluptuous ass towers above you, a sight to be worshipped. It gets closer and closer until your face is completely nestled beneath My plump cheeks. My divine power overwhelms you and you lie smothered in ecstasy.
"Breathe. That's it. I want you to memorize this smell. Get familiar with what controls you. I control you - your breath, your choices, your desires."
This is often about humiliation and often about scent play. Above all, this is facesitting - the heart of Femdom breathplay.
_______________________
I love making Femdom facesitting clips. Get them at My
Iwantclips
and
Clips4sale
stores!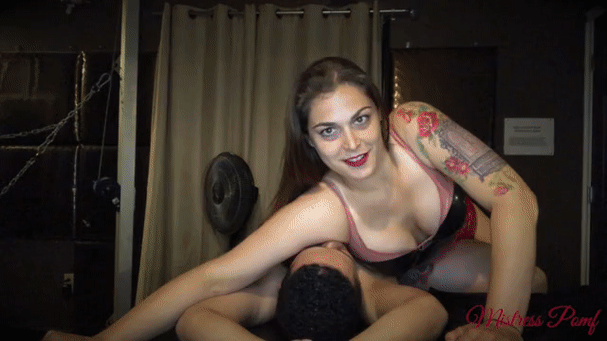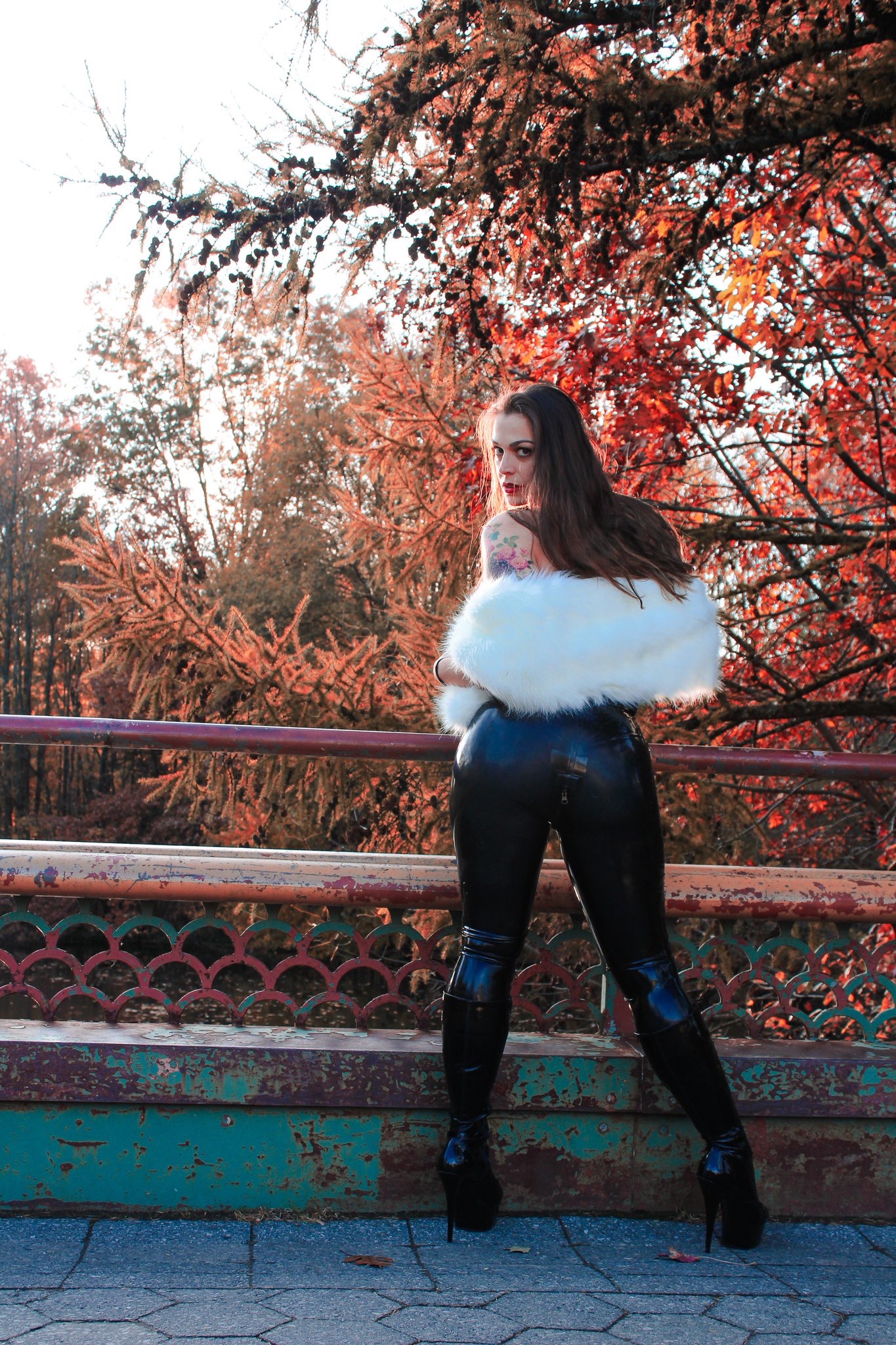 …. One day you did get a taste. Not from the source. No. you succeeded in a cumbersome task I put you through. I rewarded you a pair of ripe panties and sent you home to write poems about them. Below is My favorite.
Putting One Over
I envy this
Tiny cloth piece
It gets the kiss
While I only the tease
Snuggled against her soft supple skin
It has the fortune of the ultimate date
Days on end alone it breathes her in
Swallowing wet kisses from parts most intimate
That intimacy is a distant dream
Makes it no ordinary cloth piece
But though it gets the cream
I do put one over these panties
Because while they see only the trailer
I get to see the whole reel
While they taste only the sampler
I get the full course meal
-AC